Don't treat the final score as an indicator of what happened Friday night at Free State Stadium — the Firebirds dismantled Olathe North, 38-22.
Photo Gallery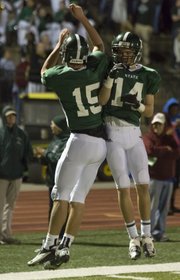 Free State Football vs. Olathe North
Free State led 38-7 at halftime, and Olathe North's lone score was an 84-yard kickoff return by Venus Triplett. FSHS coach Bob Lisher began to remove his starters midway through the third quarter, while Olathe North elected to play its first string through the end of the game.
Free State (9-1) will host Olathe East (6-4) in the Class 6A state quarterfinal next week.
The Free State defense yielded 119 yards in the first half, while the offense gained 342 yards, led by T.J. Cobbs' 151 rushing yards.
"It was a really good job by the offensive line and receivers making all those good blocks," said Cobbs, who had touchdown runs of 42 and 66 yards in the first half, both completed because of sacrificial plays by teammates. The first, an option pitch from quarterback Kyle McFarland, came as the tackler in the flat chose to crush McFarland while Cobbs caught the ball, sprinted diagonally to the sideline, then on to the end zone. The second, a read give from McFarland to Cobbs, who ran left outside the tackle and up the sideline, ended in the end zone thanks to tight end Zach Bickling upending a would-be tackler from the blind side at the 20-yard line.
Cobbs broke arm tackles throughout the first half on nine carries.
"Coach said this week I have to run through people with power, or else we're not going to get the job done," Cobbs said.
Free State quickly quashed any intention Olathe North (3-7) had of exacting an upset win. After the Firebirds punted on their first series, two Cobbs runs led to the first score less than five minutes into the game. On the next series, McFarland completed two passes of 11 yards, ran for eight, then punched it in for a touchdown on two red-zone runs.
McFarland brought precision to the passing game with slants, short and deep out patterns, and lofts over the top. Following Olathe North's second straight punt of 13 yards or less, McFarland passed a 28-yard touchdown to Khadre Lane, wide-open because of blown coverage.
Following Triplett's kickoff return for a touchdown, Free State broke O-North's back with an eight-play, 57-yard drive. McFarland and Cobbs runs got the Firebirds started, and after McFarland returned to the game after a twinge in his hamstring, he found Chris Heller for 22 yards, capping the drive with a shotgun rollout right and pass back over the middle to Tye Hughes.
Olathe North turned the ball over on downs on its next possession, followed by two more Free State touchdowns, including a 15-yard pass to from McFarland to Hughes with three seconds remaining in the half on the exact same play, back over the middle. McFarland passed for 186 yards, 167 in the first half.
The second half might have been a formality, but for the Eagles' election to play until the final whistle with its starters. Dontez Sanchez found Mauricio Chio for a 33-yard touchdown with 28 seconds left in the game. It was his 17th pass attempt of the second half after attempting only two passes in the first half.
"We gave up 22 points; that's a weakness," Lisher said. "Like any coach (I'm) not very happy about it.
"Our offensive line started to work some things out as the game progressed. I don't want to have to work things out as the game progresses next week. We're going to have to get after it."
Olathe North sought to enforce its physical brand of football on the Firebirds, but the defensive line set the tone early.
Free State stopped Eagle runners 12 times for two yards or less in the first half, including on fourth down and two yards to go late in the second quarter when Olathe North drove inside the red zone and threatened to bring the deficit back down to two scores before halftime. But Free State's Joe Dineen and Riley Buller met Elbert Johnson one yard past the line of scrimmage and immediately reversed his direction. Dineen was in on a multitude of tough hits throughout the game.
Cobbs' 66-yard touchdown run on the subsequent possession made the score 32-7, and it felt like a two-score swing after Dineen and Buller's combination on Johnson.
"It starts on the line every single week," defensive lineman Fred Wyatt said. "Coach Lisher stresses that, and we did it tonight.
"We pride ourselves on defense, and playing violent and making tackles. We shut them down. Our defensive linemen were able to shut the gaps and make hits. Momentum is going pretty high right now. We have to carry that into the next week of practice and next Friday."
Copyright 2018 The Lawrence Journal-World. All rights reserved. This material may not be published, broadcast, rewritten or redistributed. We strive to uphold our values for every story published.