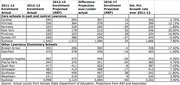 Lawrence school district officials say they are firm in their decision not to close or consolidate any elementary schools, despite the fact that enrollment projections that were used to justify that decision earlier this year have so far turned out to be inaccurate.
"I am convinced that consolidation is not the ideal route for our district to take," school board president Vanessa Sanburn said Thursday. "I recognize it is a potential solution. I just don't believe it's the best one."
Earlier this year, the school board backed away from plans to close or consolidate certain grade schools in central and east Lawrence. Those schools included Cordley, Hillcrest, Kennedy, New York, Pinckney and Sunset Hill.
That decision to back away from consolidation was based on a report from a community task force the board had appointed in 2011. The task force's report noted, among other things, that new enrollment forecasts showed the district overall would grow faster over the next five years than had previously been estimated, and that the growth would be concentrated in the very neighborhoods that were targeted for school closure and consolidation.
Those projections, from the consulting firm RSP and Associates, showed enrollment would grow more than twice as fast in those attendance zones over the next five years compared with other parts of the district.
But in the first new school year since those projections came out, the forecast has proved to be inaccurate.
According to official head counts taken Sept. 20 and reported by the Kansas State Department of Education, RSP over-estimated this year's enrollment at four of the six schools slated for consolidation, and under-estimated enrollment at six of the eight other elementary schools in Lawrence.
Rob Schwarz, who heads the firm and who conducted the analysis for the district, said he is currently looking into the new enrollment numbers to understand why the actual head counts differed from the projections.
Superintendent Rick Doll said Schwarz will address those questions when he appears at one of the two board meetings scheduled in November.
"They were actually a little bit under-estimating in terms of what we were going to grow," Doll said of the overall numbers. I think we actually grew (a little) more than they thought we were going to. But it wasn't necessarily in the areas they had projected. We have talked to RSP about that, in addition to some information that has come out about some additional housing developments that have started on the west side of town. That's changed as well."
The Lawrence school board approved a contract with RSP in October 2011 to conduct an analysis specifically for the task force working on the consolidation plan. The contract was for $27,500, according to minutes of that meeting.
RSP's report was released in January and it played a big part in the task force's recommendation not to consolidate any grade schools but, instead, to upgrade and renovate all of the existing buildings.
"Last year, it was thought that enrollment growth would be concentrated in the newer neighborhoods of west Lawrence," the report stated, "but RSP Consulting now projects that growth will be concentrated in and around the schools slated for consolidation and in Lawrence's south and southwest areas."
The school board eventually accepted that recommendation and is now in the process of drawing up plans for a bond election in the spring to fund upgrades and renovations at the six "core" elementary schools, as well as facility improvements and technology upgrades throughout the district.
Sanburn, however, said the enrollment projections were not the only factor in convincing the board not to pursue consolidation.
For one thing, she said, much of the space that was considered "excess capacity" in those buildings has since been taken up since the closure of Wakarusa Valley School in 2011. In addition, Lawrence is now providing all-day kindergarten at every elementary school, which has also removed excess space.
But another reason, she said, is that the six schools targeted for closure and consolidation also have some of the largest populations of low-income and minority students, and those are the neighborhoods where the district tries to maintain smaller class sizes.
"And so even if we consolidated, we could get some benefit from having larger class sizes and saving money on staff," Sanburn said. "But because of our commitment that we've made to lowering class size ratios for lower-income students, a lot of that savings would be negated by hiring more staff to deal with larger populations."
Copyright 2017 The Lawrence Journal-World. All rights reserved. This material may not be published, broadcast, rewritten or redistributed. We strive to uphold our values for every story published.