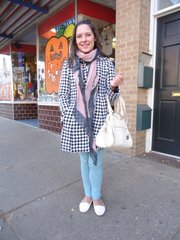 Age: 29
Relationship status: Single
Hometown: Bangor, Northern Ireland
Time in Lawrence: An hour and a half
Occupation: Nursing student
Dream job: ER nurse
What were you doing when scouted? Shopping at Brits for a little taste of home.
Describe your style: Eclectic. Patterns and scarves.
Fashion trends you love: Skinny jeans and bohemian
Fashion trends you hate: Emo, goth. And wearing socks with flip flops.
Fashion influences: Kate Middleton. Emma Watson. London in general.
What would you like to see more of in Lawrence? People dressing up and making an effort.
Less of? Sportswear, sneakers
Tattoos or piercings? Just my ears
Who do people say you look like? Nobody really
Tell us a secret … I drink at least 15 cups of tea per day.
Copyright 2018 The Lawrence Journal-World. All rights reserved. This material may not be published, broadcast, rewritten or redistributed. We strive to uphold our values for every story published.