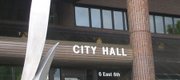 Subscribe to the email edition of Town Talk and we'll deliver you the latest city news and notes every weekday at noon.
News and notes from around town:
• It won't be an old-fashioned water war, but an interesting contest involving water in Douglas County is shaping up nonetheless. Maybe a chess match is the best way to describe it.
If you remember, I recently reported that Public Wholesale Water Supply District No. 25 purchased about 3 acres of ground near the Kansas River between Eudora and Lawrence.
The purchase created speculation the water district was set to follow through on long-discussed plans to build its own water treatment plant, which would give several large water users in the region an option for treated water to purchases from the city of Lawrence.
Well, that is speculation no more.
Larry Wray, president of the wholesale water district, confirmed the district has received its financing and is moving forward with a $16 million water plant project.
The recent land purchase was the first of several planned purchases. The three-acre piece of ground will be one of three well fields used to supply the water plant. Wray said the district has options to purchase all of the property it likely will need for the fields and well plant.
The project also will involve laying about 30 miles of pipe across the Douglas County countryside and into Osage County.
Currently, only two rural water districts are part of the wholesale district. Douglas County Rural Water District No. 5 — which serves large parts of western Douglas County south of Clinton Lake — and Osage County Rural Water District No. 5 — which serves the area around Overbrook, Carbondale, Scranton and the north shores of Pomona Lake — are committed to the project.
But it will be worth watching whether other water users join the wholesale district now that there is a firm commitment for a plant to be built. Wray said detailed engineering for the plant hasn't yet begun, so there is still time for other water users to join up.
City of Lawrence leaders likely will be watching what Baldwin City leaders do. Baldwin City currently buys its treated water from the city of Lawrence. In fact, Baldwin City is the second-largest user of treated Lawrence water, trailing only Kansas University.
Baldwin City leaders have expressed concerns about the city's contract and the prices it must pay Lawrence for treated water. Baldwin previously has explored joining the wholesale water district, but more recently Baldwin leaders have been exploring a partnership that would open a new water treatment plant at the former Sunflower Army Ammunition Plant near De Soto.
Whether this new development changes Baldwin's thinking isn't yet known. Wray said he only recently notified Baldwin officials that the wholesale water district received its financing — which, by the way, came from the USDA rural development fund.
What is certain is that Douglas County Rural Water District No. 5 will be buying much less water from the city of Lawrence once this plant comes online. Wray also leads Douglas County No. 5, and he said the plant will become the district's main supplier of water, although he hopes he can keep a contract with the city of Lawrence to serve as a backup source.
Wray also has expressed concerns about the city of Lawrence's contract with his rural water district. For decades, the city of Lawrence limited the number of water meters Douglas County No. 5 could add each year. That was a major point of contention for rural water district leaders. That limitation was removed several years ago, but sharp price increases also created concern among water district leaders.
For example, in 2010, the rates the city charged to its wholesale water customers — the rural water districts and the city of Baldwin City — increased by 18 percent. That was more than double the normal increases Lawrence residents experienced for their water bills.
Wray said the city recently has worked to drop rates, but concerns still persist about how the city would treat wholesale water customers in the future.
"We think this project will give us better control over our pricing for the long term," Wray said. "It will take awhile to get the plant paid off, but we're really looking at what is best for the district over the next 40 to 60 years."
Average Lawrence residents should pay attention to all this water talk because it potentially could have an impact on residential water rates at some point.
The city last decade undertook a major expansion of the Clinton Water Treatment Plant. The expansion, which was undertaken mainly to accommodate what was expected to be continued growth in Lawrence, came at cost of more than $15 million. The city projected having significant wholesale water sales to help pay for the expansion.
But whatever changes happen, won't happen overnight. Wray said the water plant project will be a major construction undertaking that likely will take about four years to complete. Engineering of the project alone is expected to take about 1.5 years, he said.
• Speaking of a major undertaking, it was all the way back in August 2011 when I first reported seeing a sign for the Very Serious Comedy Office in the shopping center at 19th and Haskell. At the time, I couldn't find anyone who knew much about the venture, but I told you I would report back later. Well, a mere 10 months later, I have this to report: It is an office for comedians. It also is closing.
I recently saw there was a garage sale at the location, and that was the first time I had ever seen anyone in the building. So I stopped (in the hopes of getting a good deal on those lapel flowers that shoot water).
While there, local comedian Jay Maus gave me the rundown on the operation. A group of six to eight local comedians would meet at the office on a regular basis to try out new material, do some group writing and other collaboration projects. In total, Maus estimated about 20 performers used the office over the last several months, but the venture did not turn out to be very successful from a commercial standpoint.
That's in part because being a comedian in Lawrence doesn't pay very well. But Maus thinks that has a chance to change. He said one of the reasons he opened the Very Serious Comedy Office was to give local comics a bit more of a professional reputation. Eventually, he hopes bar owners in Lawrence will see that comedy acts have some of the same potential as live music acts.
"Right now we still have to show venue owners that it is not as big a risk as they think to book a comedy act," Maus said. "A lot of comedians would gladly take a Wednesday or Thursday night date to prove that a show can be profitable. I think there are people in town who really do want an alternative to live music."
Maus said he's choosing not to renew his lease at the 19th and Haskell shopping center, but he is keeping his eyes open for another small office space.
"I think it does add some professionalism to our efforts," Maus said.
Currently, Maus said the Jackpot Saloon with its open mic nights has become the main comedy venue in Lawrence.
(In case you are wondering, I had no luck with the water-squirting flowers. Just as well, I don't think she would have appreciated them anyway.)
• If by chance live music is more your thing than live comedy, you'll have plenty of chances to catch a few tunes in Downtown Lawrence.
The Lawrence Parks and Recreation Department again will host its Thursday Brown Bag Concert Series in Downtown Lawrence. The first concert is set from noon to 1 p.m. on June 7 in front of the U.S. Bank Tower at 900 Mass. It will feature Billy Spears Beer Bellies.
Other concerts — all will be from noon to 1 p.m. at Ninth and Massachusetts — include:
— June 14 - Foreverett
— June 21 - Good Ole Boys
— June 28 - Billy Ebeling & the Late for Dinner Band
— July 5 - Paul Gray
— July 12 - Lonnie Ray Blues Band
— July 19 - Borderline Country
— July 26 - Juego Estarnda
— Aug. 2 - BRC Sounds
All concerts are free to attend. In the event of inclement weather, concerts will be moved to the Watkins Community Museum, 1047 Mass.
• This just in from the Douglas County Courthouse: County Clerk Jamie Shew is filing for re-election. Shew, a Lawrence Democrat, is seeking his third term. Shew said he plans to file the necessary paperwork later this afternoon. He ought to know the process. His office oversees all county elections, in addition to a host of administrative matters for the county.
Thus far, no one has filed to run against Shew in the November general election. County candidates have until noon Friday to file.

Copyright 2018 The Lawrence Journal-World. All rights reserved. This material may not be published, broadcast, rewritten or redistributed. We strive to uphold our values for every story published.