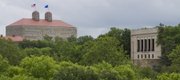 Subscribe to the email edition of Heard on the Hill and we'll deliver you the latest KU news and notes every weekday at noon.
Your daily dose of news, notes and links from around Kansas University.
• I remember once back in the prehistoric era, before Heard on the Hill was around, I stumbled across a KU website that listed grade distributions by instructor and section.
Even though Heard on the Hill wasn't around yet, I tweeted about it at 11:53 a.m. By 3:45 p.m., it had been taken down. I don't remember the exact details very well (it was almost three years ago), but I remember a company had made an open-records request for the data and was interested in selling it. I believe the site was not supposed to be live, and KU was considering just making the data available for free (something they obviously decided against).
But anyway, I mention all that only as context for an interesting idea I spotted at the University of Minnesota, where the faculty is mulling a proposal that would list not only grades on transcripts but also a range of students who also received that same grade in a course.
The Chronicle of Higher Education reports the transcript would reflect a "percentile range" of students who received the same grade in the class. It explained it this way:
"If, for example, one student out of a class of 20 received a B and it was the highest grade, the transcript would read, 'B, 95 to 100.' And, if in another class of the same size, every student received an A, it would read, 'A, 0 to 100.'"
The hope is that it would shame instructors into giving out fewer A's if they knew it might appear diminished on transcripts if they gave out all A's. It made me think back to those old grade distribution pages I saw (which were really interesting to look at for the three or so hours I got to peek at them).
• The Wichita Eagle reports that John Bardo, the incoming president of Wichita State University, will make $330,000 per year, about $48,000 more than his predecessor, Donald Beggs.
The move keeps Wichita State as third in presidential salaries among state universities overseen by the Kansas Board of Regents.
The Eagle also outlined the salaries for the leaders of the other five schools: KU leads the pack at $432,650; Kansas State, $375,025; Emporia State, $240,000; Fort Hays State, $255,200; and Pittsburg State, $248,378.
• So all that West Campus road construction that's been looming is finally here. We've written about it a few times, but you can catch the latest updates and all the ways around the maze here.
• I'll be headed to a wedding in Las Vegas (not mine) this weekend, so Heard on the Hill will be taking a break until Tuesday, provided I recover from the whole experience in time. I'll still be accepting those awesome tips to ahyland@ljworld.com, though.
Copyright 2018 The Lawrence Journal-World. All rights reserved. This material may not be published, broadcast, rewritten or redistributed. We strive to uphold our values for every story published.