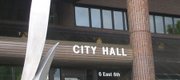 Subscribe to the email edition of Town Talk and we'll deliver you the latest city news and notes every weekday at noon.
• How about some bulgogi or some BBB? (No, the first one is not a made-up word and the second one is not a poor attempt to abbreviate barbecue.) Both are menu items from Lawrence's newest Korean restaurant.
O Cafe recently opened at 1530 W. Sixth St. in the strip center that includes the Subway shop at Sixth and Minnesota streets. (You know, the strip center in front of the Yacht Club. That seemed to help my wife get oriented.)
Some of you may already be familiar with many of the items on O Cafe's menu. The restaurant is run by the Cho family, which previously operated the Campus Hideaway Korean Restaurant at 11th and Mass. about five years ago.
O Cafe manager Jay Cho said that location ended up being just a bit too hidden away, and his family has long been looking for an opportunity to get back in the Korean restaurant business in Lawrence.
The restaurant is starting out with a simple menu and adding to it as old Hideaway customers come back in and make requests for some of their old Hideaway favorites.
But something called bulgogi is a mainstay on the menu, Cho said. The restaurant offers beef, chicken and pork bulgogis. Cho told me bulgogi basically is a Korean style of marinade. In other words, it is a dish of either marinated beef, chicken or pork. Some of the marinades, I'm told, are pretty spicy, but Cho said the restaurant has made sure to include several menu items that have the heat dialed way down.
Then there is BBB. It is an abbreviation for bibimbap. My understanding is bibimbap is a dish that includes a bowl of rice, sautéed vegetables, a chili pepper paste, and is topped with either beef, chicken, pork and an egg. Mix it all up, and you have a dish that may be as fun to eat as it is to say. (But not to spell. I finally gave up and handed my notebook to Cho.)
The menu also includes fried dumplings, a few tofu dishes, and everything from beef to tuna rolls. The restaurant also has a tasty little appetizer of Korean sweet potatoes that it hands out like chips and salsa.
Cho said the restaurant has been open for less than a week, and is betting that Lawrence's international leanings will support a Korean restaurant.
"We think it really will add to the variety of Lawrence," Cho said. "The town really has everything else. Thai, Japanese, Chinese, but it doesn't have a restaurant that is totally Korean."
As for the name O Cafe, Cho said the letter O represents peace and tranquility in his culture. The restaurant makes a point to play soothing music in its dining room, and hopes people not only find good food but also find relaxation when they visit the cafe.
That's good to know about the letter O. I have a 6-year-old daughter named Olivia, nicknamed O. Peace and tranquility are not what come to mind when I frequently yell that letter in my house.
• More news from the Douglas County Courthouse. Paula Gilchrist has filed for re-election as the Douglas County Treasurer. Gilchrist, a Lawrence Democrat, turned in her paperwork late Tuesday afternoon.
Gilchrist, so far, is the only person to file for the treasurer's position. Candidates for all county seats up for election have until noon Friday to file their paperwork for the November general election.
• UPDATE: Shoofly, shoofly. It may become the word of the summer in Lawrence in 2012. Traffic along a portion of 23rd Street is scheduled to be shifted over to two shoofly detours on Thursday as part of work to replace the 23rd Street bridge near Haskell Indian Nations University.
In case you are not familiar with the concept of a shoofly detour, it is basically a short frontage road that takes you around a construction site. In this case, there will be two shoofly detours: one on each side of the 23rd Street bridge.
The two shoofly detours will accommodate two lanes of traffic, which is an improvement over the situation currently. For several weeks, the eastbound portion of 23rd Street has been reduced to one lane.
The speed limit on the shoofly detours will be less than the standard speed limit on 23rd Street. I once was told the speed limit on the detours likely will be 30 miles per hour, down from the standard of 45 miles per hour on 23rd Street. But I've got a call in to KDOT, which is overseeing the project, to confirm.
I also hope to get a better estimate on how much longer motorists will be dealing with the bridge project. Once upon a time, there was discussion the bridge project may be completed in September. The last I heard, however, is the project may last into December.
Copyright 2018 The Lawrence Journal-World. All rights reserved. This material may not be published, broadcast, rewritten or redistributed. We strive to uphold our values for every story published.