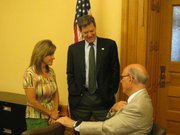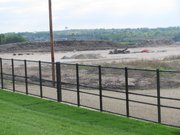 Topeka — A bipartisan effort led to Kansas winning a state-of-the-art federal research lab, but the project is running into opposition in Washington, D.C., officials said Tuesday.
President Barack Obama, a Democrat, didn't put funding for the National Bio and Agro-Defense Facility in his proposed budget, and Republican leaders in Congress have been calling for significant cuts in federal spending.
That has placed the National Bio and Agro-Defense Facility, or NBAF, in the crosshairs and the Kansas congressional delegation — all Republicans — in an all-hands-on-deck mode.
"Everything that was rolling down the track in Washington is now subject to the environment that we face … in regards to spending money we don't have and the deficit and the debt and our efforts to reduce spending," said U.S. Sen. Pat Roberts, R-Kan.
But Roberts, and fellow Republican U.S. Rep. Lynn Jenkins, R-Kan., and Gov. Sam Brownback said the need for NBAF to protect the world's food supply from contagious animal diseases transcends federal budget problems.
"This is an investment in national security," Roberts said. "This is a top priority for the nation and the world," said Brownback.
Their comments came during a meeting of the NBAF steering committee.
Three years ago, the U.S. Department of Homeland Security selected Manhattan, Kan., as the future home of NBAF.
Because Obama did not include money for the project in his latest budget proposal, "this has been a heavier lift than usual," Jenkins said.
The House Appropriations Committee has recommended $75 million in funding this year, and Roberts said he hoped that by the time negotiations in Congress are complete that NBAF could get $50 million.
Another issue is release of $90 million for the project that has been approved in previous years but is being held by Homeland Security, Roberts and Jenkins said.
Roberts said Homeland Security was holding the money because it fears Congress will cut another part of the agency's budget that focuses on science and technology. Roberts said the two funding issues should not be related.
Jenkins said the appropriations bill proposes withholding $20 million from Homeland Security until the previous NBAF funding is released by the agency.
"We just felt there was a need to kick-start this process and get this ball rolling, and the only way to do that was to hold their feet to the fire," she said.
Another hurdle includes efforts by officials in New York to have Homeland Security renovate a lab on Plum Island to do the research.
"We anticipate a floor fight," Jenkins said of attempts to refurbish the Plum Island facility. "We will be prepared."
Roberts said the Plum Island lab is "completely degraded."
NBAF has been projected to cost $650 million, although Roberts said he has heard from Homeland Security officials that the price could double because of delays and inflation.
The lab is scheduled to be operating by 2020, working on research on Foot and Mouth Disease, African Swine Fever, Rift Valley Fever and other diseases.
An economic analysis says the lab will have a total impact of $2.4 billion over 25 years, employ hundreds of people, both directly and indirectly, and lead to a boon of bioscience companies.
But aside from the benefit to Kansas, officials argued the project is crucial to protect the world food supply from unintentional or intentional outbreaks of animal diseases.
Patrick Splichal, vice president of Merriam-based SES Inc., an agricultural security firm, said the high-level research lab would help develop countermeasures to outbreaks.
"Without building a replacement for Plum Island, the U.S. will lose this capacity, resulting in slower disease detection, containment and less effective response, significantly increasing the economic costs of an outbreak," Splichal said.
Copyright 2018 The Lawrence Journal-World. All rights reserved. This material may not be published, broadcast, rewritten or redistributed. We strive to uphold our values for every story published.