About the retreat
What: Kansas Authors Club District Two Writers Retreat
Where: Lake Doniphan Conference and Retreat Center in Excelsior Springs, Mo.
When: June 1-3
Cost: $65 for day only, $95 for one night and three meals and $145 for two nights and four meals
For more information: ljw.bz/JRbBuy
Kansas Authors Club District Two meets the second Saturday each month from 9:30 a.m. to noon in various locations. Nonmembers are welcome to attend. For more information, visit the website.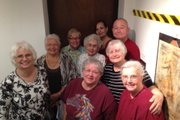 Mostly, writing is a solitary act, and like many lonesome endeavors, it benefits from company every now and again.
Kansas Authors Club hopes to make that a bit easier for writers from Lawrence and the surrounding area with an upcoming writing retreat, featuring informational sessions, socializing and the picturesque surroundings of a nearby lake.
The club's District Two, which encompasses Lawrence, is putting on the retreat, which runs Friday through Sunday at the Lake Doniphan Conference and Retreat Center in Excelsior Springs, Mo.
Attendees need not be members, nor do they need to be published. District Two's president, Lawrence's Susie Nightingale, says that to attend, all you need is a love of writing.
"(After becoming president) one of my goals was to increase opportunities for writers and those interested in writing to network and build stronger relationships with each other," says Nightingale, who expanded the 2011 retreat — the club's first event of its kind — from a one-day workshop to a three-day event.
"Writing is a solitary activity, and socialization with other writers is crucial for keeping creative juices flowing."
The expanded event includes sessions on fiction, nonfiction and poetry, plus cross-genre breakouts on book promotion, manuscript preparation, social networking and more.
Sessions will be taught by members and associates for the organization, which, founded in 1904, is believed to be the longest continuous writers' group in the country.
"For newbies, and there are many of them, we shall provide opportunities for increasing their knowledge base about writing and for making many new friends. The informal atmosphere at the lake will facilitate making connections," Nightingale says. "For everyone in attendance, we shall provide a getaway from all the stresses of daily living."
New Lawrence resident and club member Lorraine McVey says she's very excited to get together with other writers and talk shop in an inspiring setting.
"As an aspiring author, I want to learn all I can about the craft. What better way is there to learn than to study with the best and at the same time develop friendships that last a lifetime?" says McVey, who previously was a member of Women of Words in Texas. "The members of this club are fascinating people and fun to be around. They definitely have skills to share and a person open to learning can advance their talents from just listening to them."
Nightingale says she is hopeful nonmembers and those writers who are just getting started will have a similar experience to McVey when meeting and greeting others who love to put words on a page.
"Just knowing you are not alone and that there are others who share your passion for writing is validation for making the retreat."
Copyright 2018 The Lawrence Journal-World. All rights reserved. This material may not be published, broadcast, rewritten or redistributed. We strive to uphold our values for every story published.