Wichita — The Class 6A state championships had only been going on for an hour, and already Free State coach Steve Heffernan sensed it was time for a team meeting.
Photo Gallery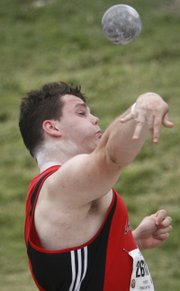 2012 Class 6A state track meet (Day 1)
He wanted to make sure his squad wasn't rattled by an unsettling start.
Alexa Harmon-Thomas, the favorite to win the 100 hurdles, had just tripped over a hurdle during her 9 a.m. preliminaries race, meaning the sophomore did not qualify for today's finals.
So Heffernan gathered his girls for an impromptu get-together just outside the team tent.
"I told them that we had a little bit of a cushion coming into the state meet for what we wanted to do," Heffernan said. "Now, the cushion's gone, but the goal isn't. We still have an opportunity to do the same thing."
Free State's girls responded.
Following the pep talk, every individual and relay team qualified for the finals, putting the Firebird girls in position to challenge for a state title today.
"Outside of the one bump in the road with Alexa not making it to finals, everything else was just fantastic," Heffernan said. "I'm not sure we could have had a better day on the first day on the girls side or the guys side."
Heffernan was especially impressed by Khadijah Lane, who was the first to run after the Firebirds' conference.
In her first state meet, the senior notched a new school record in the 400 (58.91 seconds) to post the second-fastest time in qualifying.
"This was a girl who wasn't running the 400 a month ago," Heffernan said. "Everything else just fell into place today on the girls side. We're still in very good shape for (today)."
Harmon-Thomas bounced back herself, notching the second-fastest qualifying time in the 300 hurdles (46.40).
In the 100 hurdles earlier, she was in first place by a wide margin, prompting the public-address announcer to proclaim, "Harmon-Thomas running away with it!"
Just as the words left his mouth, the sophomore tripped over the second-to-last hurdle — something that had never happened to her before in competition.
"A little bit of a tailwind, and she was moving really fast and just didn't get the foot up fast enough for the next hurdle," Heffernan said. "And sometimes that happens. You watch the rest of the hurdles races, about one out of every two races, a kid did that. They just get so excited about how fast they're moving, they don't have an awareness of how close they are to the hurdle at that exact moment.
"She just was a little too close when she took off."
Scout Wiebe gave the Free State girls their only team points, finishing fourth in the javelin with a throw of 124 feet, 9 inches.
She came into the day seeded sixth in the event.
"I didn't think I was going to place that high," Wiebe said. "I was kind of expecting to go fifth or sixth."
The sophomore set a new personal record by three feet.
"My footsteps were good," Wiebe said, "and my arm whip was really nice, which helped the javelin fly farther."
After one day, the Free State girls sit in 12th with four team points, but the Firebirds will have 11 more opportunities with individuals and relays to score points today.
On the boys side, Kain Anderson finished third in the 3200 with a time of 9:30.08.
In the same race, Shawnee Mission West's Jonah Heng broke a 33-year-old state record with a time of 9:06.64.
DayShawn Berndt had an impressive day in qualifying, posting the best time in the 400 (49.48 seconds), the second-best time in the 200 (22.36 seconds) and also helped the 4x400 and 4x100 teams qualify for the finals.
Keep in mind that Berndt hadn't run the individual 400 all year until last week's regionals.
"Last year, he's not in this meet at all. He barely finished regionals (with an injury)," Heffernan said. "And now he's going in, and he's got four events to run (today). He's got to be feeling good about two of them to maybe grab a state championship.
"Unbelievable day. Just fantastic for him. I'm so proud of him and what he's overcome."
Free State's boys are tied for 15th with six points. The Firebird boys have eight different individuals/relays that have the potential to add points today.
Copyright 2018 The Lawrence Journal-World. All rights reserved. This material may not be published, broadcast, rewritten or redistributed. We strive to uphold our values for every story published.