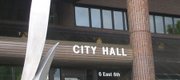 Subscribe to the email edition of Town Talk and we'll deliver you the latest city news and notes every weekday at noon.
News and notes from around town:
• With Memorial Day coming up, it is worth noting an organization that does a lot to help celebrate the holiday is working to build itself a new home.
Lawrence's Alford-Clarke VFW Post 852 has filed plans with City Hall to build a new post on vacant ground near 27th Street and Haskell Avenue.
If you remember, Lawrence real estate leader John McGrew brokered a deal for the Bert Nash Community Mental Health Center to buy the VFW's longtime home and property at 138 Ala. The mental health center eventually wants to build more office space there, create a community wellness center and a nature area that could take advantage of the large pond on the site.
The new site is on vacant industrial ground at 2645 Haskell Ave., which is just north of 27th and Haskell near Chaney Inc.'s facility.
The VFW is seeking to have the 1.7 acre site rezoned from heavy industrial to light industrial. The post hasn't yet filed detailed plans for the new building, but a concept plan shows about a 5,700 square-foot building that includes a kitchen, a bar and a gathering area.
I chatted briefly with Post Commander Fred Shockey III, and he said the post hopes to move into its new home between March and May of 2013.
Shockey, however, wasn't able to talk long on Wednesday because he said he was getting ready to go into a meeting regarding the missing flagpoles the VFW uses to create an "avenue of flags" at the entrance to Memorial Park Cemetery. The Journal-World had a front-page article Wednesday on how the trailer that housed the poles has gone missing. Shockey said that article produced an outpouring of support from community members, so perhaps there is good news coming on that front.
• Something else that has gone missing, at least in parts of Lawrence, is a functional sidewalk. Many properties across the city have sidewalks badly in need of repair.
As some of you might know, state law says sidewalk repairs are the responsibility of property owners, not the city. Well, in many cases, property owners either don't know, don't care or simply don't have the funds to pay to replace the sidewalks.
It has been a problem city leaders have struggled with for a while. There hasn't been a city commission in recent memory that hasn't said better sidewalks should be a priority, yet the money to fix existing sidewalks hasn't shown up in budgets. (There has been some money in the past to build new sidewalks in areas where gaps exist.)
City officials, however, are now ready to give a new program a try. City commissioners recently agreed with a recommendation from one of the city's advisory boards to award $40,000 of Community Development Block Grant money to the city's Public Works Department to repair sidewalks in low-to-moderate income neighborhoods.
Public Works Director Chuck Soules said his department is still working on the details of the plan. But in general, the city will pay to repair sidewalks that are in bad shape. The $40,000 won't come anywhere close to repairing all the bad sidewalks in the city. Soules is estimating the city will get bids near $40 a linear foot to repair sidewalk. If I'm moving the beads on my abacus correctly, that will be enough for about a 1,000 feet of sidewalk repair.
But as Soules noted, that may be enough to affect several properties, because many of the stretches of bad sidewalk are only 5 to 10 feet in length.
Soules said he hopes to get the details of the program established later this summer and begin work in the fall.
• Another week, another week's worth of land transfers as recorded by the Douglas County Register of Deeds. Click here to see the list of land transfers recorded for the week ending May 14.
There are several commercial sales of note, but, before we get to those, one from a couple of weeks ago that I didn't originally notice.
It looks like a group led by Russell Briggs of Briggs Automotive has purchased another piece of property near the Lawrence Auto Plaza on South Iowa Street. AFAD Inc. purchased what used to be the old University Floral building at 2103 W. 28th Terrace. The property is just across the street from the recently expanded Laird Noller Hyundai. No word yet on what Briggs has planned for the property. Briggs, of course, has been making major investments in the Lawrence Auto Plaza. He's already built a new Subaru dealership building, and has filed multimillion plans for both a new Chrysler and Nissan dealership buildings.
As for interesting property sales from this latest group of land transfers:
— It appears the Campbell-Becker building at 1321 Wakarusa Drive has changed hands. Bobwhite Meadow LP — a group that was led by the folks at the investment firm Campbell-Becker — has sold to Lawrence Business Park LLC, which lists Jim Dunning, a Wichita accountant, as its resident agent.
— Bill Newsome and Doug Compton's 6Wak Land Investments has sold 4930 Overland Drive and 450 Wakarusa Drive — near the Sixth and Wakarusa Walmart to BJ Mellmanor Townhouse Apartments LLC. That entity looks like it is led by Robert A. Rubenstein of La Mesa, Calif.
— It appears the shopping center at 3115 W. Sixth St. that includes Conroy's Pub and several other businesses that I can't remember at the moment (pubs tend to do that to my memory) has sold. Lindemuth Inc., headed by investor Kent Lindemuth of Topeka, has sold the center to Roger and Elizabeth Currier. A quick note: On sales like this it is always possible that just an individual space in the center sold. I haven't checked that out yet, but it looks like the entire center from the listing I saw.
— The property that houses the Culver's Restaurant at 2111 W. 33rd St. apparently has sold. According to the listings, TOJO Properties LLP — which looks like it was led by Thomas L. Ortner of Yuba City, Calif. — sold the property to 2111 Property LLC, which is led by Michael K. McVey of Lenexa.
In case you are keeping track, I highlighted five sales this week, and all five of them involved out-of-town interests in one form or another. Not that there is anything wrong with that, but interesting nonetheless.
Copyright 2017 The Lawrence Journal-World. All rights reserved. This material may not be published, broadcast, rewritten or redistributed. We strive to uphold our values for every story published.