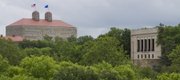 Subscribe to the email edition of Heard on the Hill and we'll deliver you the latest KU news and notes every weekday at noon.
Your daily dose of news, notes and links from around Kansas University.
• The U.S. State Department has issued a policy directive that has caused some confusion and concern nationally about the effect on Confucius Institutes, according to the Chronicle of Higher Education.
The institutes are administered by the Chinese government, and aim to promote Chinese language and culture across the world.
KU is one of the 70 or so American universities that have a Confucius Institute. KU's is housed on the Edwards Campus in Overland Park.
The directive, as far as I can tell, seeks to ensure that teachers at the institutes conform to the correct visa categories, and may affect some institutes' teaching of Chinese languages in elementary and secondary schools.
Susan Gronbeck-Tedesco, KU's associate vice provost for international programs, said the new directive shouldn't affect how KU's institute functions.
"I don't think we have an issue with this," she said, though KU is double checking to be sure.
• A new home for James Naismith's rules of basketball is one of the features of KU's ongoing comprehensive fundraising campaign.
Dale Seuferling, president of the KU Endowment Association, told me they have some plans for a structure to house the rules. But they're keeping mum for now on the specifics, waiting until some additional donors are lined up. I've heard different things from different folks throughout the process here, so I won't speculate on exactly what form the structure could take, but it's safe to say it'll be in the vicinity of Allen Fieldhouse.
David Booth, the KU alumnus who purchased the rules at auction, has seen the initial plans, and was excited about the prospect of getting more donors lined up to support the new facility.
Jim Marchiony, a KU associate athletics director, deferred to the university on the new structure to house the rules, saying it's a collaborative project with KU Endowment.
So it'll be something to keep an eye on moving forward. I'll let you know when I know more.
• KU has named an acting director of its Center for Russian, East European and Eurasian studies after the announcement that its current director, Edith Clowes, would be leaving for the University of Virginia.
Mariya Omelicheva, an associate professor of political science, will step into the role for now. She has been serving as an associate director of the center since 2010.
She has studied human rights, Islam, security threats, geopolitics and authoritarianism in Russia, Central Asia and South Caucasus, and has conducted field research in Kazakhstan, Kyrgyzstan and Uzbekistan.
• If there are any Heard on the Hill readers in Kyrgyzstan, I think now would be the very best time for them all to send me a tip to ahyland@ljworld.com.
Copyright 2018 The Lawrence Journal-World. All rights reserved. This material may not be published, broadcast, rewritten or redistributed. We strive to uphold our values for every story published.