Olathe — Free State High's girls soccer team rarely has been outmatched on the field this season, the most successful in program history.
Then again, not one team in the state has had an answer this year for unbeaten Olathe East, which knocked the Firebirds out of the postseason with a 4-0, Class 6A state quarterfinals victory on Tuesday at College Boulevard Activity Center.
Photo Gallery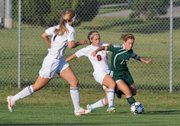 2012 Class 6A soccer state quarterfinals: Free State vs. Olathe East
The Hawks (19-0) often proved bigger, stronger and faster than FSHS (12-5-2) — not by much, but enough to make a difference and advance O-East to the state semifinals.
Hurting Free State's margin for error early was a lack of offensive chances. While O-East senior Laura Schnell pounded a free kick for a score from about 40 yards out in the sixth minute, and teammates Haley Hanson and Kirstyn Corder scored in the final five minutes of the first half, the Firebirds, fresh off their first regional championship in program history, only put together two shots in the first 40 minutes.
Coach Kelly Barah said the Firebirds knew they couldn't outrun O-East, so they tried to build attacks.
"We just couldn't connect that last pass to get us that look on goal," Barah said.
According to senior Kylee Loneker, the Hawks' talent level muddied Free State's offense early on.
"Olathe East is so good, we knew we weren't gonna get as many opportunities as we usually do," Loneker said. "Every single pass, every single throw, every single kick, it has to have a purpose to it. I think that's why we were just so frantic."
Thanks to strong defensive play from Free State's Olivia Hodison, Rylee Fuerst, Jessica Ferguson and others, Olathe East went 30 minutes without scoring in the first half. At that juncture it seemed the underdog Firebirds might have a chance at scoring an upset. But Hanson turned and fired a goal from about 20 yards out in the 36th minute, and Corder beat FSHS goalkeeper Elena Auer to a loose ball at the top of the box, then put it away, less than two minutes later.
Said junior Abbey Casady: "It didn't even hit me until halftime that we were actually down three goals. There wasn't any doubt in my mind that we could've came back, but that's just not how it happened."
The Hawks didn't net their final goal until the 56th minute, when Lauren Zach set up Corder for her second score of the night.
Barah said O-East made solid plays to earn the playoff win.
"All and all," he added, "we think we could've done a better job of defending some of the goals."
Free State at least was able to find more shots in the second half. Eight minutes in, Loneker sent a free kick to Hadyn Hutchison right in front of the goal and misfired to the left. Less than four minutes later, Chelsea Casady fed Maddie Dieker in front of the goal on the left side, and O-East goalkeeper Lindsey Lyman got just enough fingertips on the shot to deny the Firebirds a goal.
Later, in transition, Margaux Gill hit Loneker, who scooted a pass to open teammate Katie Sarraf, but the pass was intercepted.
Twice in the final 20 minutes, Loneker's powerful right leg was denied on long, booming shots — first by the cross bar, then by Lyman.
With 10 minutes to go, Dieker had a shot swallowed up by the Hawks goalkeeper.
Loneker was somewhat satisfied that her team put up a fight in the season-ending loss.
"We realized this is potentially the end," she said of what changed in the second half.
Olathe East finished with 16 shots while FSHS had nine.
Barah said the Firebirds shouldn't forget about their missed chances.
"We'll just try to learn," Barah said, "and get better for the next season."
Copyright 2018 The Lawrence Journal-World. All rights reserved. This material may not be published, broadcast, rewritten or redistributed. We strive to uphold our values for every story published.