Two summers ago, Emily Mueller scratched out a summer fun to-do list on a notepad and left it on the kitchen counter. As is all too often the case, she said, it just sat there.
"You have 1,000 different ideas and things you want to do, and it's going to be so great," the Lawrence mom said. "Next thing you know, it's Labor Day and you've only done, like, half of it."
Last summer was a different story. By the time fall arrived, Mueller, her husband, Scott Mueller, and their 2-year-old son, Peter, had done nearly everything on their list, including making Popsicles, going to the Lawrence Busker Festival, checking out the Cottin's Hardware Farmers Market, watching the Tour of Lawrence roll through downtown and catching fireflies outside.
Mueller was one of about 130 people to sign up for the first Summer Bucket List Challenge. The challenge — which kicks off its second summer today — is part of the online Happy Family Movement purveyed by Kansas City area photographers Josh and Jenny Solar.
The Solars started the movement for the same reason that Mueller signed up.
Get out of town
Looking for kid-friendly activities that are out of town, but not too far out of town? Check KCedventures.com for links to Kansas City area offerings, plus other ideas for quality time with your kids.
The Raymore, Mo., couple — parents of Max, 7; Ava, 5; and Lia, 3 — found themselves making lofty plans at the beginning of each summer then just plain not getting to them.
Last year, they wrote their ideas on brightly colored cards and pinned them to a clothesline on the wall. They decided to make it a challenge and try to get other families involved, too.
They collected email addresses via their website, thehappyfamilymovement.com, sent out an electronic newsletter with bucket list tips and urged participants to send in photos and share their own experiences on the Happy Family Movement Facebook page.
The Solars watched a sunset, played tag, watched fireworks in the park, went to the zoo, splashed in both the Atlantic and Pacific oceans (the couple own their own business, Solar Photographers, so their schedule is flexible), got ice-cream from the ice-cream man and took the kids to their first Royals game.
"We had, like, the best summer ever last year," Jenny Solar said. "We did every single thing on our list, and it was so awesome."
Solar herself grew up in what she described as a "broken" family. Her dad died when she was 8, though she never really knew him, Solar said. She grew up living with her mother, but she wasn't involved in her life, and she's never been close with her brothers.
Shooting weddings for many "amazing" couples — so in love and surrounded by close-knit relatives — has been inspirational for her and her husband, Solar said.
"We look at that, and we want that for our own family," she said. "We really, really want to have that loving, close, connected family."
On the street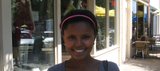 Going to Kansas City more.
Hopefully, Solar said, by creating fond memories when the kids are little, they'll be more likely to want to come home for dinner on Sundays even when they're adults.
When it comes to participating in activities with your children, benefits abound, said Deborah Edelman-Dolan, a child and family services senior therapist at Bert Nash Community Mental Health Center.
"Children learn much more from watching what we do than what we say," she said. "If you're going out with your kids to do something, they learn that you value them."
Younger children, especially, also learn proper ways to act by watching their parents model behaviors, whether it be while out hiking or eating at a restaurant.
"As they get older, they look more and more toward their peers, but it's good to have that family experience to have a base to start with," Edelman-Dolan said.
To craft a good list for your family, consider your time constraints, your budget and each family member's interests, Edelman-Dolan said.
Taking a walk around Clinton Lake might be just as much fun as spending $50 a person or more to visit an amusement park, she said. And not everyone can take a month off at a time for vacations. Parents with more rigid work schedules might think about packing a picnic dinner and taking it to the park some evening.
"It doesn't have to be complicated, you don't have to go far," Edelman-Dolan said. "The point is spending time together and making it pleasant."
Just like anything, she added, moderation is key.
"The goal is to do fun activities that give you quality time with your kids," Edelman-Dolan said. "If you plan 26 things in one day, how are you going to enjoy just being together?"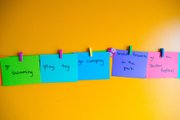 Solar said she and her husband limited last summer's bucket list to 22 items. This summer, they have 21. With three months of summer, that makes for about seven activities per month.
As suggested in the Solar's Bucket List Challenge newsletter, Mueller found a fun way to present her list. Instead of the notepad on the counter, she created a word collage of activities using Wordle.net, posted it on the fridge and crossed off items as the family did them.
She tried to include activities that took a lot of time or planning and others that were simpler — and free. Mueller said that Lawrence always seemed more like a college town but that doing homework for her list revealed many activities for children, even very young ones.
Mueller said she planned to participate in the challenge again this summer — but in a new place.
She and her family moved to Madison, Wis., just a few weeks ago, and she's heard of an airplane-themed diner she thinks Peter will love. That will go on the list, she said, along with a number of yet-to-be-determined activities.
"It will be a nice way to kind of get to know the new city that we live in," she said.
Copyright 2018 The Lawrence Journal-World. All rights reserved. This material may not be published, broadcast, rewritten or redistributed. We strive to uphold our values for every story published.