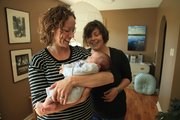 One day when Sara Wornock and her husband were visiting their obstetrician, they spotted a brochure for Complete Doula Services.
It was a serendipitous moment, as the Wornocks wished to have their first baby naturally but had determined home birth was not for them. Troubled with how to create a similar experience inside a hospital, they leafed through the pamphlet.
"(We) did some research and discovered that the use of a doula during labor and delivery greatly, greatly reduces the incidence of all the medical interventions that we were hoping to avoid — like epidurals and Cesareans," said Wornock. "We were sold."
So the Wornocks hired Lindsay Clements. A doula in Lawrence, Clements attends 3 to 4 births a month, spacing them out in case the due date is off the mark.
"One of the biggest challenges is the unpredictability of it," said Clements. "The due date is an estimated due date. … I could be called any time, day or night, and it's normally in the middle of night."
Clements sleeps with her cellphone near her pillow and always has a bag ready so she can throw clothes on and slink out if the phone rings.
A doula since early 2011, Clements' interest in the profession bloomed after she gave birth to her first child 9 years ago. She labored in a hospital without a doula present. But the moment was profoundly joyful.
Afterward, though, she learned some of her friends had not had a positive birth experience. In fact, many were having negative experiences and regrets, feeling pressured into procedures they didn't understand.
"I think all women should have an empowering birth experience," said Clements. "It should be something that you look upon with great joy."
After Clements moved to Lawrence she met Stephanie Olson, now of Complete Doula Services. She discovered she could help mothers have a pleasant pregnancy and labor without going to medical school.
To become a doula, Clements had to attend at least three births of a specific criteria and be evaluated by a doctor and midwife. She also regularly attends workshops and training sessions in Kansas City.
Clements' connection with her clients starts before delivery day.
Ideally, she meets them during early pregnancy. She likes to attend at least one doctor's appointment to go over the delivery plan. And she teaches six classes designed to make the mother more informed and confident. The classes focus on things like breathing and relaxation, nutrition, postpartum preparation and late pregnancy comfort.
"The (classes) were … a good opportunity to get to know and become more comfortable with Lindsay," said Wornock. "We liked her immediately, but spending more time together in the classes made us feel like we would be sharing this really intimate experience with someone we knew rather than someone we hired."
Clements meets mothers during the early stages of labor, then helps them transition to the hospital if that's where birth is going to occur.
Most of the births are at the hospital. Clements creates a home-like setting in the delivery room: dimming the lights, turning on pleasant music, making sure the women she's assisting are comfortable.
For Wornock's labor, Clements walked the halls with Wornock and her husband, pointing to and explaining any monitors or machinery. Later she slid into a purely supportive role.
"Once the contractions became so intense that I had to concentrate completely and basically became nonverbal. Lindsay helped my husband find ways to soothe and reassure me," said Wornock. "And during the most intense contractions — the ones that I felt getting away from me, that I wasn't sure I would be able to handle — she talked me through. I'm not sure we could have done it without Lindsay; I know we wouldn't want to."
For 11 hours of contractions and 2 hours of pushing, Wornock coached and supported Wornock. And then, at 8 lbs. 11 oz., Elsa Wornock was born.
"I didn't want to just 'get through' labor, I wanted to experience it," said Wornock. "Working with a doula allowed me to do that. It is a great gift to have had that support and to have been able to be so present for the birth of my daughter."
Copyright 2018 The Lawrence Journal-World. All rights reserved. This material may not be published, broadcast, rewritten or redistributed. We strive to uphold our values for every story published.