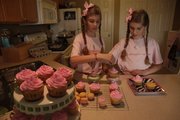 Ella and Liliana Keathley-Helms are baking again.
The 11-year-old Lawrence twins were featured last year in the Journal-World after they started the nonprofit organization Cupcakes for Kiddos.
They'll be making and selling cupcakes for Father's Day to raise money for their latest good cause — the children's scholarship fund at the Lawrence Arts Center.
There is a six cupcake minimum ($12), and orders must be received via email by June 12, with payment received by June 13. For more information and payment instructions, visit cupcakesforkiddos.com.
Cupcakes will be available for pickup June 15 or 16. For an additional charge, Cupcakes for Kiddos will deliver them to the recipient's address.
All proceeds will go to the arts center, and each order includes a card telling the recipient how proceeds will be used.
The twins' 2011 Mother's Day cupcake sale raised $1,100 for Amazima Ministries in Uganda, said their mother, Tasha Keathley-Helms.
Copyright 2018 The Lawrence Journal-World. All rights reserved. This material may not be published, broadcast, rewritten or redistributed. We strive to uphold our values for every story published.