Topeka — Prior to this season, Bishop Seabury Academy didn't have a girls swimming program.
The Seahawks picked a good time to start one.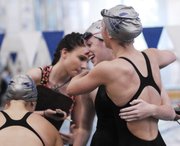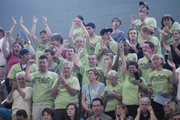 On the strength of a gold medal performance in the 200 medley relay and a pair of state championships for sophomore Phoebe Grabill, Seabury capped its first year of existence as the fifth-best team in the state Saturday at the Class 5-1A state championships.
Grabill took first place in the 100 fly (59.15 seconds) and 500 free (5:10.95) and swam with sister Reese Edwards, Maddie McCaffrey and Elizabeth Padgett on Seabury's 200 medley championship team at Capitol Federal Natatorium.
The sophomore said none of it would have been possible without her older sister Edwards, a senior, and their mother, Megan. The sisters, who became accomplished swimmers with the Lawrence Aquahawks club, have swum since each was 5 years old. They first talked with their mother last year about how exciting it would be to swim on a high school team.
The idea picked up steam this past fall when Grabill ran for Seabury's 1A state championship cross country team. Edwards and her mother spearheaded the effort, letting Seabury athletic director Eric Nelson know they wanted to start a program and recruiting Seabury students with swimming experience.
There also was the matter of finding a coach. Reese, who took fourth in the 200 IM and fifth in the 100 back, said Dave Brunfeldt was gracious in filling that role.
The team's coach, though, said all he does is carry a clipboard and take care of paperwork.
"Frankly, Reese Edwards is the coach in the pool," Brunfeldt said with a smile. "They basically all coach themselves."
The approach worked great. Elizabeth Padgett took fifth in the 50 free and ninth in the 100 free, McCaffrey finished seventh in the 100 fly and 11th in the 200 IM. Plus, Seabury's 400 free relay team of Edwards, Emilie Padgett, Elizabeth Padgett and Grabill took fifth place.
Grabill was named first team all-state, while Edwards and Elizabeth Padgett made the second team.
Edwards took pride in establishing the new program and helping it finish fifth (Blue Valley won the 5-1A state title).
"It was so much fun, and I love every single girl on our team and they've all put so much into this," Edwards said. "Hopefully, next year they'll come back, move up a few spots."
Most of all, she was happy her sister gets two more chances to add to her state championship medal count.
Copyright 2018 The Lawrence Journal-World. All rights reserved. This material may not be published, broadcast, rewritten or redistributed. We strive to uphold our values for every story published.