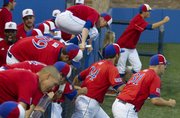 They're in. And they made it in the sweetest way possible.
Friday night at Hoglund Ballpark, in front of a loud and proud pack of more than 1,500 Jayhawk supporters, Kansas University's baseball team clinched a berth in next week's Big 12 tournament in Oklahoma City with a 6-3 victory over Missouri.
KU's second straight triumph over the rival Tigers was never in doubt. At times, it looked a lot like the 1-0 victory the Jayhawks picked up Thursday night, as freshman starter Wes Benjamin tossed seven solid innings, striking out three and giving up just four hits.
Picking up where sophomore ace Frank Duncan left off on Thursday, Benjamin held the Tigers (27-26 overall, 9-14 Big 12) scoreless for five innings, making it 14 straight zeros on the scoreboard for Mizzou during the past two days.
"That motivated me a little bit," Benjamin said of Duncan's complete-game shutout.
Friday's gem was Benjamin's second straight solid outing. Last week, in a crucial game against Kansas State, the freshman from St. Charles, Ill., tossed a complete-game shutout of his own to beat the Wildcats.
"I'd rather have it now than at the beginning of the season," said Benjamin, noting he thought KU's entire pitching staff was starting to click at the right time. "The last two series have been against our biggest rivals, and I think that's been a big part of it."
That fact, no doubt, played a key role Friday. Of course the Jayhawks wanted to clinch a spot in the postseason, but beating Mizzou was nearly as important. And it showed. Throughout the night, and throughout each of the last two days, really, KU's players seemed to have a little extra fire in everything they did. At-bats lasted a little longer, defensive plays looked more locked-in, and the energy in the dugout started high and stayed there throughout both victories.
"Obviously, this is an important rivalry," said KU designated hitter Alex DeLeon, who finished 2-for-4 with an RBI and a run Friday. "Our goal coming in to the weekend was to sweep Missouri. We want to sweep 'em tomorrow."
DeLeon was one of four Jayhawks to pick up RBIs Friday, as the Jayhawks (22-31, 7-15) picked up one run in the first, one more in the second and two in the third to open an early 4-0 lead.
"That works wonders for the total pitching performance," Benjamin said.
Left fielder Michael Suiter — the offensive hero Thursday — tacked on two more RBIs Friday, and catcher James Stanfield (2-for-4) and center fielder Dakota Smith each added RBIs.
But the story of the night was the pitching, and KU coach Ritch Price was more than happy to point that out after accepting congratulatory hugs and handshakes following the victory.
"To compete in this league, your pitching has to be rock solid," Price said. "And to get those two quality starts, back-to-back, from a sophomore and a freshman was special."
More importantly, it sets up the Jayhawks, who currently sit in seventh place in the league standings, a half game ahead of Kansas State (7-16), to focus on nothing but finishing off the Tigers in style today, in what figures to be the final game, in any sport, in the historic Border War for a long time.
"As they go to the SEC, I'm gonna pump our guys up tomorrow," Price said. "We're gonna play tomorrow for anyone who's ever worn a Jayhawk uniform in the past, and we're gonna step on their throat. That's our goal."
The Jayhawks and Tigers will close the series and the regular season at 1 p.m. today.
Copyright 2018 The Lawrence Journal-World. All rights reserved. This material may not be published, broadcast, rewritten or redistributed. We strive to uphold our values for every story published.