Raven Graves will be among the 10 Free State High School seniors honored with singing the national anthem at today's graduation ceremony.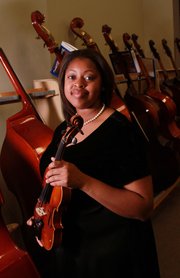 It won't be the first time that Graves has belted out "The Star-Spangled Banner" in front of her peers. She has sung it at the start of basketball, volleyball and soccer games. She has kicked off home openers and senior nights. And when she finishes, the applause follows.
"They love her," Free State's choral music director, Hilary Morton, said. "And part of that is you have to give it up for people this age who are just doing it, who say 'this is who I am and this is what I'm going to do.' … It's for more than just talent. It's just admiration for her security in self."
Graves' path to graduation hasn't always been a secure one. Early on, her mother, counselors and teachers worried about the decisions she was making as she struggled to find her identity.
In junior high and the early part of high school, Graves said she was making childish decisions and wasn't all that focused on graduating on time.
"I did enough to get by," Graves said.
"By the skin of your teeth," mom Linette Williams added.
Counselor Joel Frederick saw those low grades, but he also knew Graves had much to offer the world.
"Here was a kid who clearly had a lot going for her. She had a good support system in place, was a very engaging young woman," Frederick said. "She had really good things to accomplish, and we needed to make sure she finished with us."
To keep her on track, Frederick met with Graves, pointing out the grades she needed to improve and making sure she stayed focus.
Morton, too, worried about Graves in the beginning.
"She was young and acting like she owned the place," Morton said.
As a senior, Morton said, Graves does sort of own the place. She keeps tabs of who is in the building and what they are doing. When she speaks, the classroom quiets down. Her motto for senior year was to stay out of and rise above the drama, Morton said.
"She is running the show, and we are just participating in it," Morton said. "But not in a bad way. She has really learned how to do that in the right way without putting people off."
Graves is a leader on the marching band's color guard, was nominated to the homecoming court and is someone everybody knows.
"It seems like she is in 10 of my classes, but she is only in one," Morton said. "She is the heart of our class. She has such a big personality in there."
Music has always been a part of Graves' life. Her grandmother is in a gospel group in Kansas City, and Graves grew up singing in the church.
"When she sings, it is just effortless," Williams said. "It is in her bones."
And music has been a common theme throughout her high school career. In her junior and senior year, Graves was part of the chamber choir, a group that requires auditioning and is hard for juniors to get into. She has played the violin since sixth grade and is in the high school orchestra.
She has great pitch and good reading skills, Morton said.
"She is fearless. One of the hardest things about being a singer is you really have to put yourself out there and be vulnerable," Morton said. "Raven doesn't care. She is going to let it out. That is a lot of what makes her such a strong musician. She just goes for it and doesn't freak herself out."
Counselor Tina Mitchell knew Graves back in seventh grade, when she was on a rather bumpy road filled with dead-ends and negative consequences. When Mitchell arrived at the high school this year, she was delighted to see what Graves had become.
"Raven is a glowing example of a young woman that used her past choices to establish and build her future," Mitchell wrote in a email.
Morton thinks those years of not-so-great decisions will help Graves in her future goal of becoming a teacher.
"I hope she sticks with it. We need more teachers like her," Morton said. "She'll be real with the kids. She'll form special relationships with them, but she won't put up with their (antics)."
When Williams is asked about her daughter graduating, she tears up and notes how proud she is.
"You could talk to anybody about Raven and they will tell you she is funny, goofy, outgoing, a daredevil. Sometimes she has thought she was invincible with some stuff," Williams said. "The change I have seen, I think, is with her accountability and being responsible."
Next year, Graves will attend Coffeyville Community College and major in music education on a full scholarship.
As a counselor, Frederick said he has seen many students at a crossroads in their life and it's always nice to see them go down the right path.
"We want to see everyone graduate. But for some it has been an easier journey than for others. And the ones whose paths are not as traditional, I'm particularly glad to see walk across the stage," Frederick said.
Copyright 2018 The Lawrence Journal-World. All rights reserved. This material may not be published, broadcast, rewritten or redistributed. We strive to uphold our values for every story published.