Topeka — Free State High's girls soccer team was in a loving mood Thursday night.
The Firebirds couldn't fight the urge to hold, hug and even kiss the object of their desire, a Class 6A regional championship trophy.
Photo Gallery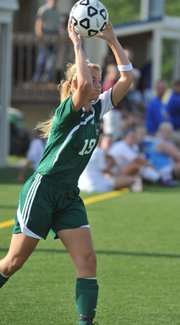 2012 Class 6A soccer regional final: Free State vs. Washburn Rural
Midfielders Chelsea Casady and Kylee Loneker set the love-fest in motion by connecting for the decisive goal in Free State's 3-2 double-overtime victory at Washburn Rural.
Casady received a pass on the left sideline, made a perfect turn and pushed the ball up the field as Loneker busted a sprint down the middle. Casady played the ball into the box, and Loneker was there to thump the game-winner past the outstretched arms of Blues goalkeeper Sarah Fritz in the 98th minute, securing the FSHS program its first regional title.
Loneker, a senior, said Free State (12-4-2) works on that kind of transition offense at every practice, and that made the sensational goal routine to execute.
"You're supposed to run to the box whether you think you're gonna get it or not," Loneker said. "That's all I was doing."
Firebirds coach Kelly Barah praised Casady for her "phenomenal" turn-and-go move and "amazing" assist.
"I don't think I can replay it enough in my head," the coach said with a broad smile.
Though FSHS rolled in the first round of the playoffs two nights earlier, Barah let his players know beating a Washburn Rural team (15-2-1) that hadn't lost since March 31 would be a far more difficult mission.
"We were there emotionally and psychologically to be able to pull this one out," Barah said.
Junior defender Rylee Fuerst said the Firebirds knew they couldn't get overwhelmed, especially playing on the Blues' home field in overtime.
"This is one of the most intense games I've ever played in," Fuerst said.
Free State struck first with a Maddie Dieker goal in the 15th minute of the first half. Midfielder Hadyn Hutchison sent an impeccable pass over the top of the WRHS defense to Dieker, and the sophomore forward knocked it into the back of the net, putting Rural in a 1-0 hole.
Dieker's uniquely superb combination of strength and touch allowed FSHS to build a two-goal advantage in the 30th minute. After sophomore defender Olivia Hodison stymied a WRHS opportunity, the ball found its way to Dieker on the right side. She shielded the Blues defense with her body while dribbling toward the goal, created space with a hesitation move and stopped roughly 20 yards out to send the ball into the left side of the goal.
The Blues' body language and energy deteriorated following the second FSHS score, but they got a dose of pick-me-up in the 38th minute. Braydi Frederick rebounded a shot Free State goalkeeper Elena Auer had just knocked away and placed it in the upper-right corner with 1:39 left in the first half.
Rural's tying score came more than 30 minutes later on a similar play. Auer smacked away a shot — one of her seven saves on the night — and Brooklynn Breckenridge was there to score on the rebound with 9:51 to play in regulation.
However, those two plays were the best chances the Firebirds defense allowed in nearly 100 minutes. The Blues took 16 shots (FSHS had 13 attempts) but spent most of the night getting turned away or disrupted by the likes of Fuerst, Allix Ice, Casady, Hodison and Amber Hicks.
By the end of their rousing overtime victory, Fuerst said she and her teammates couldn't help but kiss their newly won championship plaque.
"We've always wanted to have something up on the Free State halls, and no one's ever been represented for Free State girls soccer," she said. "It was great to be able to finally do that."
As Barah quietly addressed his giddy bunch of players after the win, he reminded them more victories are still available.
"Our journey hasn't stopped. Enjoy this," he said, "and put it away."
Free State will play in the 6A quarterfinals on Tuesday.
Copyright 2018 The Lawrence Journal-World. All rights reserved. This material may not be published, broadcast, rewritten or redistributed. We strive to uphold our values for every story published.