Maren Kahler showed up to Free State's regional game against Gardner-Edgerton on Tuesday not expecting to play.
The sophomore ended up putting the final touches on a Firebirds rout, as Free State coasted to a 7-0 victory in the first round of regionals at Free State.
Kahler, a midfielder, had been battling a sprained ankle most of the season. She had tried to come back a few times earlier in the year only to tweak her injury again.
"I came prepared with everything just hoping, just because I really wanted to play today, and everybody knew that," Kahler said. "But I really honestly didn't think I was going to."
Photo Gallery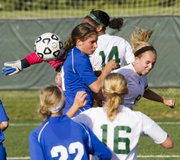 2012 Class 6A soccer semifinal: Free State vs. Gardner-Edgerton
That was until right before the game, when Free State coach Kelly Barah had Kahler go through some agility drills in front of the team trainers.
Kahler passed the tests, and afterwards was told to start warming up with her teammates.
The sophomore made good use of her playing time after subbing into the game in the second half. In the 75th minute, Kahler received a pass on a corner kick and propelled her body forward, ricocheting the ball into the net for Free State's seventh and final goal.
It also was her first goal of the season.
"Our team also bonded around it. You could also hear it in the stands," Barah said. "Everybody was just excited for her, because everybody has seen her battle that injury."
Free State was never challenged, as Kylee Loneker opened the scoring with a goal in the 17th minute.
Katie Sarraf followed with a goal off an assist by Hadyn Hutchison, and Maddie Dieker later delivered a cross to Regan Keasling, who knocked it into the net in the 28th minute.
"Her ball was perfect. It was right to my foot. I just had to pull my foot back and hit it," Keasling said. "I was surprised, because I don't score often at all. I was really happy."
Amber Hicks, Margaux Gill and Rylee Fuerst added the other goals, as Free State had seven different players score.
"This team loves nothing but to share the ball," Barah said. "Sometimes I even think it's been one of our biggest faults, is somebody always wants to get the assist."
Free State, which also defeated Gardner-Edgerton 2-0 in a home match on April 23, kept possession most of the game. The Firebirds finished with 17 shots on goal, while the Trailblazers (5-12-0) had none.
"We knew that this was going to be our last home game," Keasling said, "so I really think we just played for each other and came together in that way."
Free State (11-4-2) will play at top-seeded Washburn Rural (15-1-1) at 6 p.m. Thursday.
"We know it's going to be a big fight on Thursday, but I think the team is ready for it," Barah said. "We'll see. Hopefully, we'll come back with a good performance."
Copyright 2018 The Lawrence Journal-World. All rights reserved. This material may not be published, broadcast, rewritten or redistributed. We strive to uphold our values for every story published.