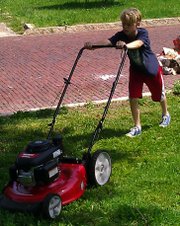 When Lawrence cardiologist Roger Dreiling was 11 years old, his grandfather bought him a lawn mower so he could start a business in his hometown of Hays.
So when Dreiling read an LJWorld.com article Tuesday morning about 11-year-old Lawrence boy Quinton Westphal, whose mower was stolen recently, it tugged at the doctor's heartstrings.
"This kid needs a mower," said Dreiling, impressed by the boy's work ethic. "I'm going to make that happen."
The Westphal family had numerous offers to buy Quinton a lawn mower shortly after the story went online. A deluge of emails and calls came into the Journal-World as well, with offers of replacing the mower.
"It warms my heart," said Quinton's mom, Jasmine.
Quinton had recently saved money for a lawn mower by collecting cans, selling homemade duct-tape wallets and socking away his birthday money.
With $250 in hand, Quinton and his dad, Schuyler, purchased a mower last week, one day after Quinton's birthday. Quinton even had several accounts in the neighborhood lined up.
But like any beginning business venture, some lessons come the hard way.
Quinton used a cable to tie up the mower, and he secured it with cinder blocks in the backyard of their home on New York Street but didn't use a lock. A day after the big purchase, the mower was gone. Stolen.
With a shrug of the shoulders, Quinton admitted he was a little down. But the theft was just a little bump in his business venture, and he vowed to save for another mower.
But the charitable cardiologist will help Quinton get back to his business soon, and they planned to pick out a new mower Tuesday afternoon.
"I was trying to figure out how I was going to help pay for it," said a thankful and relieved Schuyler.
Copyright 2017 The Lawrence Journal-World. All rights reserved. This material may not be published, broadcast, rewritten or redistributed. We strive to uphold our values for every story published.