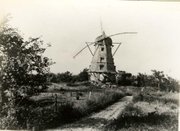 Exhibit highlights sustainable energy — concept may not be as new as you think.
Energy use in Douglas County has changed a lot since the Wilder and Palm windmill stood watch over what's now Ninth Street and Emery Road.
A new exhibit at Watkins Community Museum of History called "Get Connected: Sustainable Energy in Douglas County" features a scale model of the picturesque grist mill, which was built in the mid-1800s and torn down in 1905 after catching fire.
"It looked like it could be in Europe," says Steve Nowak, executive director of the Douglas County Historical Society.
"Get Connected" opened Friday on the second floor of the museum, 1047 Mass. It's scheduled to run through the end of this year.
The exhibit explores the past, present and future of energy use in the county and examines the social, economic and environmental aspects of energy use.
Displays feature historic examples of alternative energy use, including the trolley cars that once ran down Massachusetts Street, the hydroelectric Bowersock Dam that still operates today and the Watkins' Milburn electric car — a full-sized vehicle, Nowak says.
"Get Connected" is one of two new exhibits developed and produced by a team of five graduate students in Kansas University's Museum Studies Program. "The Day After: Living in Fear" also opened Friday.
A reception celebrating the opening of both exhibits is planned for 6 p.m. to 8 p.m. May 25 during this month's Final Fridays event.
Copyright 2018 The Lawrence Journal-World. All rights reserved. This material may not be published, broadcast, rewritten or redistributed. We strive to uphold our values for every story published.