Olathe — Lawrence High senior Blake Hocking had no interest in letting a bum right ankle ruin his weekend plans.
In the midst of spinning to throw the discus Friday at the Sunflower League Championships, Hocking felt his ankle collapse beneath him.
That meant the LHS school record holder in the shot put would have to compete at less than 100 percent in his prime event.
It didn't matter. Hocking's third throw in the finals, 58 feet, 2 inches, was good enough to earn him a second straight league shot put title — not that the accomplishment was at the top of his list of season goals.
Photo Gallery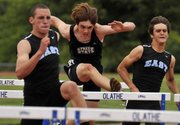 2012 Sunflower League track and field
"It's always important to represent your school and your league," Hocking said of winning a league championship and finishing second in discus with a throw of 152-2 at ODAC. "But it's not near as important as the others."
In terms of personal importance, Hocking ranks league behind state, Kansas Relays and regional events.
"It's just a progression, and I'm trying to peak at the right time," Hocking said.
The perfectionist thrower considered his winning mark "a little down slope" in his season arch, but he figured some ice on his right ankle would get him back on his desired route.
Hocking was one of five city athletes to win a Sunflower League championship. His teammate, Steven Hill, had the top triple jump mark with 45-8.75.
Free State's Dayshawn Berndt took the 200-meter dash crown in 22.13 seconds, while the Firebirds' Kain Anderson won the 800 and Alexa Harmon-Thomas earned gold in the 100 hurdles (14.73).
Harmon-Thomas also took second place in the high jump (5-6) and third in long jump (17-3.75). Though she came up short of matching her personal record of 5-8 in the high jump, she felt better about her jumps than she had all season long.
"I think it's good to have success at the league level, because it definitely gives you confidence going into the (regional) meet ... and state," Harmon-Thomas said, adding that those meets are where her focus lies.
"I don't want to get too excited (about a league title), because I know there's still so much to focus on, and so much more that I need to and want to accomplish," she said. "This is just like a stepping stone."
The FSHS boys scored an unlikely league champ in the 800 with senior Anderson. Most of the time, Anderson runs in the 1,600, 3,200, 4x400 and 4x800. Friday marked just the second time this season he competed in the 800, a race in which he admitted he doesn't have much experience.
"It was just a little bonus to change it up a little bit, I guess," Anderson said.
The Free State girls finished second in the standings behind Olathe East, with some top-five finishes. In the 1,600, Lynn Robinson took third and Bailey Sullivan was fourth. They were back-to-back in the 800, too, with Robinson taking fourth and Sullivan placing fifth. Khadijah Lane placed fourth in the 400 and Gabbi Dabney was fifth in high jump.
The LHS girls, which took seventh place, had some top finishers, too. Caitlin Broadwell finished just seven hundredths of a second behind 300 hurdles champ Saleena Bouvilom of Olathe Northwest (51.15) and took fifth in the triple jump. Another runner-up for the Lions was freshman Matia Finley, who took second in the discus (127-10) behind champion Whitney Harvey of Shawnee Mission North. Her sister, Rebecca Finley, placed fourth in the discus, while LHS shot putter Natasha Barhum also took fourth.
The LHS boys, who finished fourth (OEHS took the boys points title), nearly had a league champ in the javelin. Manny Romero's throw of 172 feet was 1 foot, 2 inches behind Shawnee Mission Northwest champ Eric Pinkleman. Gari Jones placed fourth in the 200 and fifth in the 100. Noel Fisher took fifth in the 300 hurdles.
For Free State's boys, who finished tied for eighth with Olathe South, Stan Skwarlo took fourth in the 800 and fifth in the 1,600.
Both Lawrence and Free State will compete at a Class 6A regional Friday at FSHS.
Copyright 2018 The Lawrence Journal-World. All rights reserved. This material may not be published, broadcast, rewritten or redistributed. We strive to uphold our values for every story published.