KU Commencement today
More than 4,800 Kansas University students will celebrate along with their families and friends at KU's 140th Commencement today.
Graduates begin assembling on Memorial Drive at 10 a.m., and the traditional procession through the Campanile and down the hill to Memorial Stadium is scheduled to begin at 10:30 a.m.
Though the weather forecast currently calls for near-perfect commencement weather, if it is raining this morning an announcement will be made at 9 a.m. about arrangements for a postponed ceremony. Check alert.ku.edu or LJWorld.com for additional information.
A simulcast of the ceremony will be available at KU's commencement website at commencement.ku.edu. It will also be shown at Woodruff Auditorium on the fifth floor of the Kansas Union and broadcast live on KUJH-TV, Channel 31 on Knology cable in Lawrence.
Ashley Bowser, who's graduating from Kansas University today with a major in ceramics, is still looking for work in her chosen field. But fortunately for her, while she tests the art world, she's already got another job waiting for her in Denver.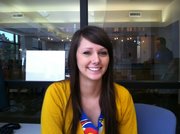 She'll start as a manager at a Dillard's store there. While it's not in her degree field, it is a full-time job with benefits.
Bowser and about 4,800 other KU students walking down the hill today for their graduation are entering a job market that's finally showing some signs of life after a long recession.
"I was kind of pleasantly surprised," Bowser said. "It does seem like things have gotten a little easier."
Employers plan to hire more than 10.2 percent more new college graduates than they did a year ago, according to an annual survey conducted by the National Association of Colleges and Employers. And university staffers who help graduates find new jobs in Kansas indicate there's been something of a rebound this year.
"Things are looking much better than we had in the past couple years," said David Gaston, director of the KU Career Center. "We'd gone so long without hiring recent grads, there's a need for it."
The retail sector is doing much better, he said. Technology companies, too, are still interested in expanding.
Although the outlook is better, it's still not great. New graduates are competing with that glut of graduates from recent years who are still looking for new or better jobs. A Gallup survey released last week indicates that 32 percent of 18- to 29-year-olds in the U.S. workforce were underemployed in April.
That statistic combines the number of unemployed with people who are working in part-time jobs but looking for full-time work.
Kerri Day Keller, director of career and employment services at Kansas State University, said that despite what mom and dad may think, even in the best of times securing a job right away is no guarantee.
"Regardless of the job market, it still has been pretty rare that new grads have a job at the time of graduation," Keller said.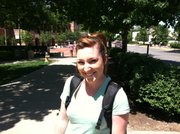 Chelsea Allen, a KU graduate from Plano, Texas, with a history degree has been looking for jobs in the collegiate athletics field.
"I've had some good success in getting interviews," she said, but she hasn't had any bites yet for a full-time position. "I've networked really well throughout my years in college."
That networking, mostly done through internships in Allen's case, can be very helpful. She had internships with the Big 12 Conference and the Sprint Center in Kansas City, Mo. She's still looking, and she said she's willing to go anywhere in they country for a good job.
"I feel like you're only young once," she said.
Gaston said some sectors aren't hiring as much as they used to. Federal government agencies in particular slowed their hiring considerably after stimulus funds dried up.
"That's been a big employer for our folks," Gaston said, pointing to several agencies, including the Social Security Administration and the Internal Revenue Services, maintaining offices in Kansas City.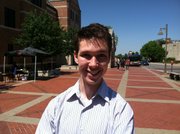 Adam Winnet, a graduate in linguistics from Overland Park, said he wanted to work in the U.S. Department of State as a foreign service officer. He'll be heading to Colombia after securing an internship there, he said, where he plans to teach English.
"I haven't been placed in a school yet," Winnet said. "But there's a lot of opportunities, for sure."
Copyright 2018 The Lawrence Journal-World. All rights reserved. This material may not be published, broadcast, rewritten or redistributed. We strive to uphold our values for every story published.