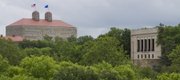 Subscribe to the email edition of Heard on the Hill and we'll deliver you the latest KU news and notes every weekday at noon.
Your daily dose of news, notes and links from around Kansas University.
• Thanks to an alert tipster who pointed out that KU had a cameo on MTV's "16 and Pregnant" reality show recently. I don't typically watch it, but the title is pretty self-explanatory from what I can gather.
This episode focused on Hope, who lives in Lee's Summit, Mo. In the episode, Hope pays a visit to KU to see her friend Elaine.
KU starts to come in around the 34:00 mark of this video of the episode.
The Natural History Museum gets some love, as does Watson Library and the Kansas Union. Another thing that comes up in discussion? House parties.
"We go to one house, and then the house next door, the house next door and the house next door," Elaine says when Hope asks about partying. "They all have a party."
And, true to form, when the two come upon a group of Elaine's friends (it looks kind of staged to me, actually), they ask what's on tap for the weekend.
House parties, one person said.
The baby is deemed to be "adorbs" by the crowd, but Hope realizes it would be a challenge for her to come to KU with a child (though I have personally known a few people who have done it well).
"If I didn't have a baby, this would be pretty awesome," Hope says.
• I heard back from the national Sigma Alpha Epsilon fraternity on Thursday about a question that arose in yesterday's Heard on the Hill post.
A posting on the fraternity's national website indicated that the KU chapter had gone alcohol-free. That information, however, was not correct, the national organization confirmed for me.
"That's a data error that we are going to correct," said Brandon Weghorst, a spokesman for the national organization.
However, he said the chapter is expected to meet or exceed fraternity guidelines for risk management in addition to university policies related to alcohol use in the facility.
• This is your last Heard on the Hill before the 140th Commencement ceremony (I love that these things are counted, by the way). Which means I have just a short time to tell you about all the rest of the commencement trivia bouncing around in my head.
We'll have lots of marshals on Sunday — 35 of them to be exact — including the university marshal, four associate marshals, two chancellor's marshals and 24 procession marshals.
And of course, the ceremonial mace and the ceremonial collar will make an appearance. The mace (which is not, to my knowledge, used for bludgeoning people or things) is made from wood from a stairway in Old Fraser Hall. Here's a bit about them from Chancellor Robert Hemenway's inauguration.
You can learn about maces, marshals and whatever other commencement information you need at commencement.ku.edu.
• You know what needs to happen? A Heard on the Hill house party where everyone pulls out their smartphones and fires off tips to me at ahyland@ljworld.com. Now that would really be adorbs.
Copyright 2018 The Lawrence Journal-World. All rights reserved. This material may not be published, broadcast, rewritten or redistributed. We strive to uphold our values for every story published.