Friday's Haskell Indian Nations University's Spring Commencement was a family dream come true for graduate Lois Stevens.
Both of Stevens' parents — Ernie and Cheryl — graduated from Haskell, as did her two sisters and two brothers. All also played basketball for the school.
When Stevens accepted her American Indian Studies degree Friday morning at the Coffin Sports Complex, she was joining as the latest line in the family legacy at Haskell, which actually began with her grandmother, who attended in the 1930s.
"Everyone was waiting for me," Stevens joked. "It's a huge load off my shoulders."
Stevens, who plans to take a little break and then look at graduate schools, was one of 81 Haskell students receiving bachelor degrees Friday, while 106 students received associate's degrees. It was the most degrees awarded in the school's 128-year history.
Haskell President Chris Redman's message to the graduating class was clear: celebrate your accomplishments and reflect on your time at Haskell.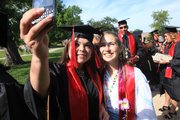 But look ahead.
"Indian country needs you," said Redman to a full house at Coffin Sports Complex. "Some of you are future leaders."
Per Haskell tradition, graduates provided a brief statement read when their name was called. Some expressed lofty plans, such as "world domination" and "saving the world," while several others used the opportunity to wish their moms a happy Mother's Day.
But for the majority of the students, plans revealed an ambitious graduating class intent on following Redman's advice.
Graduates becoming teachers, heading to law school or graduate school, starting their own business or serving their tribe stepped up and received diplomas Friday.
New graduate Joshua Woosypitti, from Anadarko, Okla., was still a little shaken up from the big event, hanging out with friends and family after the commencement. He was all nerves during the ceremony, he admits.
"It feels good," he said, then corrected himself. "It feels great."
Woosypitti rattled off a long list of activities he was involved in on campus, such as the campus newspaper and teaching tribal classes — something he'll miss.
He'll head back to Oklahoma, and run for tribal council, he said.
Five years from now?
"It'll be the same in that I'll stay active in my community," he said.
Onward Haskell.
Copyright 2018 The Lawrence Journal-World. All rights reserved. This material may not be published, broadcast, rewritten or redistributed. We strive to uphold our values for every story published.