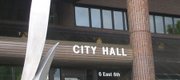 Subscribe to the email edition of Town Talk and we'll deliver you the latest city news and notes every weekday at noon.
News and notes from around Lawrence and Douglas County:
• What do you get when you put a coffee shop next to a martial arts studio next to a bank? (In my case, it might be a nightmare — a well-funded, over-caffeinated spouse with hands that are a deadly weapon.) The simpler answer is perhaps northwest Lawrence's newest retail development.
Plans have been filed at City Hall to rezone about 2.4 acres at the southeast corner of Sixth and Congressional streets to allow for a mixed-use retail building.
The property currently is a mix of vacant ground and an out-of-the-way parking lot for the Famous Dave's restaurant and other businesses at the shopping center at Sixth and Wakarusa.
Lawrence-based Williams Management is proposing to build a 10,000-square-foot building on the site that could house up to four businesses. Matthew Gough, a Lawrence attorney representing the company, said the management group has been in discussion with several local businesses that are either looking to relocate or expand.
He said the anticipated uses include a neighborhood coffee shop with a drive-through, a local bank branch with a drive through, a martial arts studio (a drive-through there would be an interesting concept but is not planned) and a fourth retail site that doesn't yet have a user identified.
Currently, the property is zoned for office uses, which would allow the bank but wouldn't allow for the other users. Gough said he hopes the project will be considered by the Lawrence-Douglas County Planning Commission in June, and he is working to arrange a meeting with neighbors in the area.
The neighbors in the area are many of the same who fought against the Wal-Mart on the northeast corner of Sixth and Congressional. This project, being on the south side of Sixth, is closer to their houses. But, of course, it's much smaller, too.
It will be interesting to see what their reactions are to the project. Gough is stressing that he doesn't believe this project will open the floodgates for large amounts of new commercial development along the western reaches of Sixth Street He's characterizing the project as an effort to find a suitable use for a piece of property that has been underutilized for a significant period of time, while also providing some neighborhood type of services.
This project should be a good opportunity for city leaders to review how that intersection of Sixth and Congressional is functioning. Concerns about traffic and congestion were near the top of the list for neighbors who fought the Wal-Mart project. Limiting the amount of retail development at that intersection was one of the compromises that allowed Wal-Mart to move forward. Granted, the Wal-Mart site isn't yet fully developed, since there are still a few lots set aside for restaurant uses or other smaller retailers. But I haven't heard many concerns about traffic at the intersection. It will be interesting to see if city commissioner take this as an opportunity to say that the intersection can handle more retail development than originally envisioned.
Who knows, maybe this will just be a warm-up. I still suspect that if Lawrence ever has another big-box proposal — think Lowe's — that the site across the street from this location will be heavily considered. But no, I don't have any new information that Lowe's has started looking at Lawrence again.
• Speaking of national chains that may not currently be looking at Lawrence, Olive Garden may now be on that list. If you remember, Olive Garden was interested in a site at the northeast corner of 27th and Iowa streets where the old Mazzio's Pizza place used to be.
The Kansas City-area development group that was working to bring the restaurant to town said the project needed some incentives to work. At one point a special taxing district was discussed, and ultimately the group proposed a neighborhood revitalization district that would have provided a property tax rebate for the project.
Such incentives, though, were taking a beating in the public following the last city commission election, where they became a major campaign topic for then-candidate, now Mayor Bob Schumm.
So, no incentives were granted for the project, but in a twist, the Kansas City-area development group filed plans at City Hall that would have allowed the project to move ahead without incentives.
That was back in September when those plans were filed. The next step in the process would have been for developers to file a site plan to allow for a building permit, but that has never happened.
Gough is the attorney who represents the Kansas City area development group, and he said he had no news to report on the project. This next part is all just chatter, so it may be as useful as a three-day old breadstick, but folks in the development community tell me Olive Garden no longer has the Lawrence project on the drawing board. Whether they are open to looking at another location in Lawrence, I don't know. But it appears the committee that makes site decisions for the restaurant chain never could pull the trigger on the 27th and Iowa site.
Maybe the incentives were important after all.
• Even though it hasn't gotten built, the Olive Garden project has been an important one for the Lawrence Chamber of Commerce. That project more than any other, perhaps, brought to a head the debate over whether the chamber ought to be involved in attracting new retail development to the community.
The chamber worked both publicly and privately to try to broker deals related to incentives for both the Olive Garden and a previous Lowe's proposal.
Well, it seems that debate has been settled on a couple of fronts. In February, the chamber had a consulting firm come in to conduct interviews with several key stakeholder both inside and outside the chamber's membership. The goal was to find out what perceptions were out there about the chamber.
Eileen Hawley, the chamber's director of communications, went over the results with me recently, and she said the retail issues definitely were a topic with the folks who were interviewed.
"We found the Lowe's and Olive Garden positions were really unpopular positions with several people we talked with," Hawley said.
To add on to that, Mayor Bob Schumm has been making it a point recently to say he does not think the chamber should be involved in recruiting retail to the community.
"The charge here is for the chamber to stay out of retail," Schumm, who is a downtown restaurant owner, told me recently when talking about the chamber's new economic development focus. "That's really important. When the chamber becomes involved in the retail function or these special taxing districts, it gets completely muddy."
It definitely did with the Olive Garden project when several local restaurant owners who were chamber members questioned why they should support an organization that was working to bring in not only a national competitor but also one that would benefit from a development that would receive a tax break.
But this talk of the chamber staying out of retail development entirely is a bit of a shift. In much of 2010 and 2011, the city convened a Retail Task Force to try to figure out how to make Lawrence a more attractive retail market. The city appointed the CEO of the chamber to serve on the task force.
At that time, there was much concern about Lawrence's shrinking retail pull factor — a number that measures how well a community is keeping its owns residents and how well it is pulling in shoppers from outside the community. There also was much concern about vacancies in Downtown Lawrence.
The city's retail pull factor is still weaker than it was years ago, and while vacancies in Downtown Lawrence have improved, there are still several high profile ones. (Think of the former Borders building and the former Maurices location, to name just two.)
So what does this new direction mean? Does it mean that the city won't have any coordinated effort to try attract retailers or improve the retail market? Or does it just mean that the city's largest business organization won't have any role in it?
By the way, those stakeholder interviews the chamber conducted also are having an impact on this proposal for a new economic development structure. I'll have more on what those interviews had to say about the chamber's efforts on economic development in the near future.
Copyright 2018 The Lawrence Journal-World. All rights reserved. This material may not be published, broadcast, rewritten or redistributed. We strive to uphold our values for every story published.