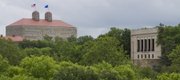 Subscribe to the email edition of Heard on the Hill and we'll deliver you the latest KU news and notes every weekday at noon.
Your daily dose of news, notes and links from around Kansas University.
• Whitney Court, a KU political science doctoral graduate, probably had a pretty nice day recently after her dissertation research got a mention in National Public Radio Political Junkie Ken Rudin's column. (It's no Heard on the Hill, but it's still pretty spiffy).
Rudin, like Court, was talking about vice presidential nominees.
"In her dissertation, she argues, 'McCain actually got more conservatives to come out and vote because of Palin. He lost by less than he would have without Palin,'" Rudin wrote. "And what about that disastrous interview with Katie Couric? 'Although she ran into trouble in news interviews about her knowledge of foreign policy,' Court says, 'social conservatives liked that she stayed true to her convictions and walked the walk.'"
• The University Daily Kansan reports that the shift from a five-year to a four-year program in the School of Education will soon result in a bit of a glut of education graduates in the marketplace.
The final five-year folks and the first four-year folks will all graduate next year, the Kansan reports. Each of those elementary education programs will have 60 students graduating next year, for a total of 120.
A normal year has about 75 KU students graduating in the program.
"We're going to have extra students, there's no question about it," Sally Roberts, associate education dean for teacher education and undergraduate programs, told the Kansan. "But students just have to be creative. They're going to have to be willing to take positions or apply for positions in districts other than Olathe, Shawnee Mission and Blue Valley. There are jobs around."
• I spotted this Joplin Globe story that said Missouri was going to begin issuing Pittsburg State University license plates.
After all, the story notes, Pittsburg State is pretty close to the border, and more than 30,000 Pitt State alumni live in Missouri.
Now, while I don't know for certain how many KU alumni who live in the state of Missouri, but I've got a feeling it's more than 30,000. Bill Self says there are more than 57,000 in the Kansas City area alone, and far be it from Heard on the Hill to question Bill Self.
So, Missouri, when do we get those KU license plates?
• Heck, forget KU license plates, I hope they start peddling Heard on the Hill plates in Missouri. Then I bet I'd really get some interesting tips sent to ahyland@ljworld.com.
Copyright 2018 The Lawrence Journal-World. All rights reserved. This material may not be published, broadcast, rewritten or redistributed. We strive to uphold our values for every story published.