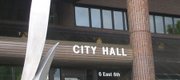 Subscribe to the email edition of Town Talk and we'll deliver you the latest city news and notes every weekday at noon.
News and notes from around town:
• Maybe it is our downtown, maybe it is our love of chickens, maybe it is our basketball craziness, maybe it is our extremely upbeat Internet message boards. I don't know what it is, but something has Lawrence in the running to win the title of America's Most Interesting Town.
Reader's Digest is conducting a contest to name the Most Interesting Town in America. The iconic magazine recently announced that Lawrence is one of 12 weekly winners in the contest, and will receive a mention in an upcoming edition of Reader's Digest.
The Web site really doesn't say what landed Lawrence on the list, but the city must have many Internet fans. The portion of the contest Lawrence excelled at was in the popular vote contest, where Internet users voted for what they thought was the most interesting town in America. Lawrence received more votes than anyone else during Week 9 of the contest.
It looks like the contest ends in late May, and editors of the magazine will make a decision on the overall winner by mid-June. That community will be featured on the cover of Reader's Digest. There also will be 10 other winners in sub-categories including: Most Interesting Town Parade; Most Interesting Town Nickname; Most Interesting Town's Family; and Most Interesting Town Character. Even though Lawrence already has won a part of the popular vote contest, anyone can submit an individual entry for Lawrence in one of the above categories by writing a 2,000-word essay.
In case you're interested, other towns that have been declared a weekly winner by Reader's Digest voters include: Ely, Minn.; Chicago; Corning, N.Y.; Bismarck, N.D.; Polo, Ill.; Fargo, N.D.; Joplin, Mo.; and Minot, N.D. (Clearly, North Dakota is fascinating, or else it just got the Internet and is testing it out.)
• Maybe $48,000 in stormwater improvements near 27th and Ridge Court will push us over the top in the most interesting town category. Or maybe it will be $13,492 to realign a crosswalk near 14th and Tennessee streets.
Or, maybe not. But those are among several projects city commissioners are set to approve tonight as part of their Community Development Block Grant Program.
But the real story seems to be what they won't be doing. As federal priorities have shifted, the city's CDBG allocation has taken a hit for 2012. The city will receive about $490,000 less in funding from the feds than it did a year ago. Still, the city will receive $1.2 million in CDBG and HOME fund money.
Because of its size and the number of low- to moderate-income residents, Lawrence receives an annual allocation from the federal government, where many smaller communities have to compete for the money.
Each spring, a city advisory board makes recommendations on how to allocate the money, and city commissioners have final approval over the plan. Commissioners are set to approve the funding allocations at their 6:35 p.m. meeting today.
Several organizations will receive less than a year ago, but the five neighborhood associations that receive funding through the program are not among them. The five associations — Brook Creek, East Lawrence, North Lawrence, Oread and Pinckney — all are receiving essentially the same amount of funding they did a year ago. That amount ranges from about $5,200 (Pinckney) to $8,100 (Oread).
The Lawrence Community Shelter also fared well. It is receiving a boost in funding as it prepares to move to its new location in southeastern Lawrence. The homeless shelter will receive $51,618, up from about $35,000 a year ago. Housing and Credit Counseling Inc. also will receive about a $4,000 increase in funding, bringing its total to $25,000.
The Ballard Community Center did not fare as well. The organization in 2011 received a little more than $16,000 in CDBG money to help fund its Emergency Services Council. This year, the organization isn't receiving any funding through the program. (UPDATE: I chatted with a city official this afternoon who told me Ballard did not apply for any money through the CDBG program this year.)
But it appears to be programs that fund housing improvements that are taking the biggest hit with the reduced funding. Look at these differences:
— Lawrence Habitat for Humanity will receive $16,500 after receiving $49,500 a year ago.
— The city's Comprehensive Housing Rehabilitation program will receive about $245,000, down from $360,000 a year ago.
— The city's housing weatherization program will receive $50,000 compared to about $72,000 a year ago, although a program to provide emergency loans for furnace replacements will receive about $15,000 more this year.
— A home rehabilitation program for first time homebuyers will receive $60,000, down from $80,000 a year ago.
— A tenant-based rental assistance program will receive about $155,000 in funding, down from about $270,000 a year ago.
In fairness, I should note that I haven't seen what each organization or program applied for in terms of funding this year. But I doubt many of them asked to receive less money. Anyway, here's a look at the complete 2012 funding allocation list that commissioners are expected to approve tonight. Here's a look at the 2011 list.
• The funding reduction for Ballard Community Services Center is just the latest in a string of rough news for the organization. As we previously reported, the organization took about a $100,000 cut in funding through the United Way's new funding formula.
Ballard CEO Dianne Ensminger recently sent out an e-mail bulletin to several community leaders and supporters of the organization detailing how the organization will deal with the cuts.
Ensminger said the reduction in United Way funding will hit the center's Emergency Services Council program the hardest. That program provides emergency assistance to people who may lose their homes due to being behind on rent or utilities payments. Ensminger said the program previously has only been able to fund about 10 percent of the requests it receives for emergency assistance. Now, with the reduced funding, it will only be able to fund about 5 percent of the requests it receives.
"This is disastrous for low- and middle-income working families," Ensminger wrote.
Ensminger also reports that Ballard will cut two positions from its staff. The e-mail doesn't say in what areas in the positions will be cut, but it seems to indicate it will be in the organization's early childhood program. I've got a message into Ensminger to try to get a bit more information on that.
The e-mail does make it clear, though, that the Ballard leadership has some concerns about how the United Way made its funding allocations this year.
"The funding cut, although not completely unexpected, was far greater than we expected and came one day prior to the day we were to receive our funding allocation for the first quarter — a payment that was already three month in arrears," Ensminger wrote. "To say that the significant decrease in funding the day before our allocation was due to us was a shock is an understatement."
The funding changes has caused Ballard to start a more aggressive fundraising campaign earlier in the year. People interested in donating to the organization can find out more at ballardcenter.org.
• One last item, in case I haven't yet convinced you to come to tonight's City Commission meeting. Commissioners are scheduled to approve several changes to the city's transit routes.
Among some of the big changes are:
— A new route that will travel from the Clinton Parkway and Inverness Drive area to KU's main campus. Currently that area, which has a number of apartment complexes, doesn't have a route that travels direct to KU. The new route is expected to cost the city about $100,000 a year to operate.
— Converting Route 3 — which runs from the Riveredge Industrial Park in northern Lawrence to downtown — into a full-time flex route. A flex route requires riders to call ahead for service, usually about an hour in advance of the ride. The system also allows riders to make standing appointments. The route currently operates on a flex system during non-peak times, but transit leaders want to convert the route over to a full-time flex system in order to make it more efficient.
Click here to see a more detailed description of all the changes.
Copyright 2018 The Lawrence Journal-World. All rights reserved. This material may not be published, broadcast, rewritten or redistributed. We strive to uphold our values for every story published.