Look interesting, Lawrence.
On the street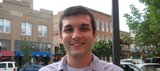 All the different kinds of people drawn here.
A national magazine has announced that Lawrence is in the running to be named "Most Interesting Town In America."
Lawrence recently was the top vote winner in a contest sponsored by Reader's Digest that seeks to highlight interesting towns across the country.
The magazine conducts 12 one-week contests where Internet users vote for what they believe is the most interesting town in the country. Lawrence won the most recent voting period, which means the city will be mentioned in an upcoming issue of Reader's Digest, said Reader's Digest spokeswoman Kristin Yuzuik.
The magazine will name an overall winner in early June and also will name winners in several categories such as Most Interesting Town Nickname, Most Interesting Town Parade, Most Interesting Town Character, and several others.
Although Lawrence fared well in the popular-vote portion of the contest, Yuzuik said the overall winner largely will be chosen based upon essays readers submit about their communities. People have until May 31 to submit an essay about Lawrence or any other community.
The winning community will be featured on the cover of an upcoming Reader's Digest. People can submit essays at readersdigest.com.
Copyright 2018 The Lawrence Journal-World. All rights reserved. This material may not be published, broadcast, rewritten or redistributed. We strive to uphold our values for every story published.