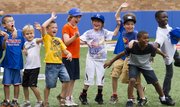 It's not that Kansas University's baseball players are tired of playing extra-inning games. They're just tired of losing them.
Sunday, in the final game of the Jayhawk Classic at Hoglund Ballpark, KU fell from ahead, 6-3 in 11 innings, against Missouri State. KU (19-29) fell to 1-3 in extras this season.
"We've played more than what's been normal in the past, without question," KU coach Ritch Price said of extra-inning affairs. "Part of the reason for that is we've been competitive in all the games we've been in, despite our 19-29 record. And the other thing is, we're not as good offensively as we have been. When we go to those extra-inning games, they go to their closer, who usually has the best arm on their team, and we have trouble scoring."
"Extra-inning games are part of baseball," KU catcher James Stanfield said. "But it'd be nice to come out on top of more of those games. That's probably what we're tired of the most, not finishing games out."
The Jayhawks had more than their share of chances to do that Sunday, but could not deliver.
In the seventh, with KU leading 3-2, Missouri State (34-14) tied the game when a potential double-play ball went for just one out at second instead of two, allowing Dylan Becker to score.
KU came up short at the plate as well. Dakota Smith (1-for-5) led off the bottom of the seventh with a double, but the next three batters failed to push him across. In the eighth, Stanfield led off with a single, and Alex DeLeon (1-for-4) hit a rocket to the gap in left-center, but the ball hung up just long enough for Becker to get to it. Jordan Dreiling followed with a walk, putting Stanfield in scoring position, but a ground-out by Chris Manship and a strikeout by Michael Suiter ended the threat. Tucker Tharp reached second in the ninth, and Dreiling reached second in the 10th, but both were stranded.
"We've struggled late in games," Stanfield said. "We have our opportunities, and we haven't got 'em. I had one today and didn't get him in."
Price has a theory why, and it goes beyond the other team's pitching. It involves the youth and inexperience of KU's roster and the inconsistency of the few upperclassmen.
"It's those two things right on," Price said.
While the Jayhawks let their chances pass them by, the Bears finally capitalized on theirs. Missouri State scored three runs on two hits and an error in the top of the 11th to blow the game wide-open. Despite Sunday's loss being a nonconference game, Stanfield said everyone in the KU dugout was upset.
"We're not taking any game off," he said. "We're not thinking about any game any differently than the next one."
The Jayhawks won't have much time to think about this latest setback. Between final exams this week and a crucial series with Kansas State this weekend, there's a lot to look ahead to.
"Every time we play them it's a battle," Stanfield said of K-State.
As has been the case during finals week the past few seasons, Price said the Jayhawks would be off today and Tuesday.
"So they can focus on finals, rest their brains, if you will, and get refreshed," he said. "That seems to have worked for us the last few years."
He also likes that the four days between games will give his team a chance to get healthy.
"We're a little beat up right now, so, if anything, we'll get a chance to rest our bodies and be ready for the last two weeks."
Copyright 2018 The Lawrence Journal-World. All rights reserved. This material may not be published, broadcast, rewritten or redistributed. We strive to uphold our values for every story published.