Kansas University's Frank Duncan grounded Air Force from the mound, and the Jayhawks held off the Falcons for a 5-2 victory on Friday night in the Jayhawk Classic at Hoglund Ballpark.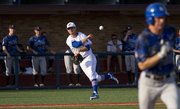 Duncan, KU's sophomore starting pitcher, worked eight innings and allowed just one earned run on six hits. He struck out nine and improved his record to 5-6. Robert Kahana earned his first career save.
Alex DeLeon led the Kansas offense from the beginning, launching a home run in KU's three-run first inning. He finished the night 3-for-4 from the plate with a double and two runs scored.
The Falcons narrowed the Jayhawks' lead to 3-2 in the top of the sixth inning, but DeLeon and company capped off the inning with two more runs of their own.
Kansas (19-27) will play Air Force (12-32) again, at 3 p.m. today.
Copyright 2018 The Lawrence Journal-World. All rights reserved. This material may not be published, broadcast, rewritten or redistributed. We strive to uphold our values for every story published.