No Douglas County Westar Energy customers are currently without power, according to its website. For several hours on Saturday afternoon, as many as 1,300 were without power.
Leonard Allen, a Westar spokesman, said at about 6 p.m. that an underground equipment failure caused the outage but did not know a location or cause for the failure.
The map below shows the approximate location of the outages, as of about 6:40 p.m.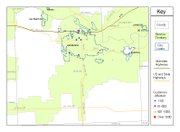 Copyright 2017 The Lawrence Journal-World. All rights reserved. This material may not be published, broadcast, rewritten or redistributed. We strive to uphold our values for every story published.