Photo Gallery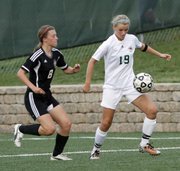 LHS vs. FSHS soccer
Most nights, senior Nikki Hutchison isn't on the field for Free State High's girls soccer games.
Fortunately for the Firebirds, Thursday wasn't like most nights.
As FSHS played host to rival Lawrence on Senior Night, Hutchison got her first start of the season, responded by scoring the first goal and helped assure fellow seniors Elena Auer, Amber Hicks, Kylee Loneker, Regan Keasling and Katie Sarraf of a 4-1 victory in their final city showdown.
Hutchison had played minutes here and there for the varsity this season, but she usually experiences most of her playing time during the Firebirds' junior varsity games. In the 11th minute, the first-time starter received a pass from Rylee Fuerst amid heavy traffic in the box and put the ball away for her first varsity score.
"I didn't know how to celebrate," Hutchison said. "I was just so excited about it."
The goal served as an ice-breaker, too, as the Firebirds (10-2-2) began to roll.
"There was so much pressure," Hutchison said, "because as the time went forward and we hadn't scored, we were getting a little bit nervous there."
Sarraf said the score got the rest of the team going.
"We were just so happy she (scored), because we know she deserved it out of everyone," Sarraf said. "There are so many people on this team that work hard every day and don't get the recognition for it."
Free State coach Kelly Barah said Hutchison's goal didn't surprise him, given the team's chemistry.
"Things like that only happen with this group," Barah said. "I've been around this for a while, and I've never been around a group that is willing to embrace the family concept like they have."
Once Hutchison put pressure on LHS (2-12), it didn't take long for the Firebirds to gain control. A few minutes later, Sarraf put a juke move on a small group of Lions defenders at the top of the box and put the ball in the left side of the net, just past Lawrence goalkeeper Alex Ewy.
With less than four minutes remaining in the first half, FSHS sophomore Maddie Dieker struck a shot from about 15 yards out into the upper left corner, giving Free State a healthy 3-0 advantage.
Lawrence coach Janna Kepler said her team, which just snapped an 11-game losing streak, tends to get emotional when it falls behind, and the Firebirds' three-score advantage impacted the Lions' energy level.
"It just made our team get down on each other rather than staying positive," Kepler said. "It's hard to stay positive when you've had a season of just disappointments."
While Free State took 17 first-half shots — Ewy saved 10 of the shots on goal — Lawrence barely spent any time on offense in the first 40 minutes.
But in the sixth minute of the second half, LHS finally found an opening. Sophomore Addison Campbell pushed the ball up the right side as senior Laura Falkenstien ran down the middle of the field. Campbell crossed the ball toward her teammate, and though FSHS senior goalkeeper Elena Auer got a hand on it, Falkenstien converted the pass into the Lions' first shot and only goal on the night.
"I guess timing is everything," Falkenstien said. "I was able to get a foot on it and get it over their keeper."
Just more than four minutes later, Free State answered the score when sophomore Allix Ice, positioned on the right side, set up Margaux Gill for the final FSHS goal.
Free State out-shot its rival, 29-2, but Lawrence defenders Lauren Fleming, Laura Neilsen, Sadie Keller, Abby Wilson and others did their best to help out Ewy, who finished with 16 saves.
The Firebirds' defenders didn't see as much action, but sophomore Olivia Hodison was injured early in the second half due to a blow to the head.
Though defense was part of Free State's success, Falkenstien said possession keyed the win.
"Their movement off the ball is phenomenal," Falkenstien said of the Firebirds. "They're constantly talking to each other, and they have great morale with each other. That says everything for them."
Sarraf said the Firebirds were just glad they kept their emotions in check in their final home game of the regular season.
"I think one of the things that Barah's taught us is to not bring anything on the field," Sarraf said, "and leave everything on the field."
Next up for FSHS is a 7 p.m. Tuesday game at Shawnee Mission Northwest.
LHS will play host to SM West at 7 p.m. Tuesday.
Copyright 2018 The Lawrence Journal-World. All rights reserved. This material may not be published, broadcast, rewritten or redistributed. We strive to uphold our values for every story published.