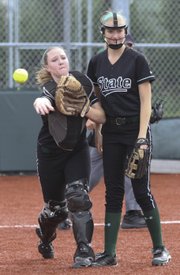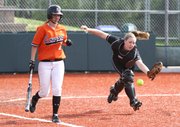 Even after a 5-1 victory in the nightcap, Free State High softball coach Lee Ice couldn't help but feel like his team let a game slip away in an 8-6 loss to Shawnee Mission Northwest in the opener on Thursday night.
"We could have snuck away with two of them (wins) today very easily," Ice said. "We really didn't start competing against that pitcher until sixth inning."
In the first game, Northwest starter Katt Cooper couldn't have been more dominant early.
The junior struck out each Free State batter she faced in the first three innings, recording just four balls in that time frame.
Through five innings, Cooper had 14 strikeouts, with the only other out for Free State coming on a sacrifice bunt by Remington Samuels.
"We just couldn't be patient and wait on a pitch that we needed to hit," Free State catcher Courtney Parker said. "We couldn't lay off riseballs. We were expecting it, but we couldn't lay off."
Trailing 4-0 against the Sunflower League's leader in strikeouts, the Firebirds came through with an improbable comeback in the bottom of the sixth.
With two outs and no one on, A'Liyah Rogers slapped a single to left field, then Samuels walked, and Alex Hill singled to load the bases.
Samantha O'Brien knocked an RBI single to left before Parker came through with her team's biggest hit.
After fouling off a few tough pitches down 0-2 and 1-2, Parker smacked a double off the right-center-field wall, scoring all three runners to tie the game at 4.
"It was just time for me to get a hit," Parker said. "I was due for one. I wasn't letting that one go."
Whitney Rothwell gave FSHS the lead, singling to right field to make it 5-4.
The Firebirds couldn't hold that lead in the seventh, though, when a walk, two singles and two errors contributed to a four-run inning for Northwest.
Hannah Whipple led off the bottom the seventh with a single and later scored on an error, but Cooper finished off the game by getting Hill to fly out to right.
The right-handed Cooper finished with 15 strikeouts.
Free State responded well in the second game, though once again it took awhile for the bats to get going.
Trailing 1-0, the Firebirds struck for five runs in the fifth. Summer Frantz and Rogers contributed one-out singles, and after Hill and Parker drew walks, Meredith Morris delivered a two-run single to center.
"We just wanted the win," O'Brien said. "I think we were more aggressive up to bat, and we were better with pitch selection."
Sophomore Kaley Delg closed it out, finishing a complete game while allowing just three hits and a walk with one strikeout.
Free State (10-7) honored five seniors between the two games: Elizabeth Hazlett, Mary Soderberg, Baha White, Hill and O'Brien.
Copyright 2018 The Lawrence Journal-World. All rights reserved. This material may not be published, broadcast, rewritten or redistributed. We strive to uphold our values for every story published.