Topeka — Dr. Roy Jensen, director of the Kansas University Cancer Center, on Thursday tried to snuff out a proposal to weaken the public indoor smoking ban and other tobacco-related measures.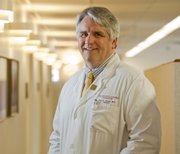 Jensen said weakening the smoking ban could hurt KU's efforts to get National Cancer Institute designation for the Cancer Center.
And, he said, it would be bad for the health of Kansans.
"We simply cannot go backwards," Jensen said during a briefing of legislators on KU's application for NCI designation.
Earlier this week, the House Federal and State Affairs Committee approved a bill that would allow smoking in Kansas bars. The measure, now before the full House, would allow smoking in any private business that has only patrons and employees who are at least of legal drinking age.
Kansas banned smoking in most private businesses in 2010. "Tobacco cessation has clearly been identified as the No. 1 thing we can do to improve the health of citizens," Jensen said.
The committee also has recommended at the urging of tobacco lobbyists that the Kansas Department of Health and Environment study whether the state should promote smokeless tobacco products as a way to reduce cigarette use.
Asked by legislators if smokeless products could be seen as safer than cigarettes, Jensen said "hogwash."
Of requiring KDHE to conduct a study, he said, "That would be a pretty silly waste of everybody's time."
Jensen was also asked his opinion about electronic cigarettes, which use a battery powered tube that looks like a cigarette to dispense nicotine to the user. He said nicotine produces cardiovascular problems and that electronic cigarettes are "gateways" to tobacco products.
The Senate has approved a bill that would make it illegal to sell electronic cigarettes to minors.
On the issue of NCI designation for the Cancer Center, Jensen said he was cautiously optimistic about KU's chances. Getting the designation, he said would increase the amount of research that the Cancer Center could do.
He said a committee will give the Cancer Center a score this week from its site visit earlier this year.
The NCI will probably decide this summer on whether the Cancer Center receives the designation, he said.
He said his most immediate concern was over federal budget problems and whether that would impact NCI decisions.
Copyright 2018 The Lawrence Journal-World. All rights reserved. This material may not be published, broadcast, rewritten or redistributed. We strive to uphold our values for every story published.