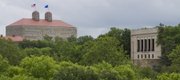 Subscribe to the email edition of Heard on the Hill and we'll deliver you the latest KU news and notes every weekday at noon.
Your Stop Day Eve daily dose of news, notes and links from around Kansas University.
• This was a big week for KU, but most of us aren't going to find out just how big for awhile now.
It was a big week because May 1 is the magic deadline for high school seniors who have been accepted to declare to KU whether they will come to Mount Oread or go elsewhere.
We know a few things. Applications to the school are up this year, likely at least in part because of new, renewable scholarships made available to first-year students.
Also in this admission cycle, KU had more students asking for information about the university in comparison with past years.
But all this is pointless unless you can follow through with a good "yield" — the percentage of accepted students who actually enroll.
And that data won't be available until the 20th day of the fall semester, KU officials told me this week.
KU has done a lot to try to recruit new students, and we'll see how some of the initial volleys are working out later this fall.
• The University Daily Kansan typically runs large final projects from reporters around this time of the semester, and here's one that takes a peek into disability services on campus.
Reporter Hannah Wise talked to several different students with disabilities for the long article and got their thoughts on how the system is working.
The article did shed some light on something I hadn't heard about. Namely, a new system of wayfinding signs intended to help people who use wheelchairs find their way up the hill without using any stairs.
This topic is generally an interesting one with many areas to explore, and I hope to be able to devote some time to it soon.
• I know a lot of KU alumni read this from all over the country (the world, even, if our online tracking software can be trusted) from the feedback I get, and so I'm hoping a few of you can help me out with something I'm working on for later this summer.
This year, KU will mark its 100th homecoming celebration, so I'm curious to know if folks out there have any particular thoughts or memories of homecomings past they'd care to share with me.
One of my favorite stories related to homecoming at KU is the racial tension that led to the end of the practice of crowning a homecoming king and queen in 1969, after it was decided that selecting one woman to represent the others was "inappropriate in a multicultural environment."
Here's some more on that particular story.
• Heard on the Hill only has one platform issue, and that's to make sure you keep sending me your tips at ahyland@ljworld.com.
Copyright 2018 The Lawrence Journal-World. All rights reserved. This material may not be published, broadcast, rewritten or redistributed. We strive to uphold our values for every story published.