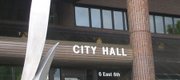 Subscribe to the email edition of Town Talk and we'll deliver you the latest city news and notes every weekday at noon.
News and notes from around town:
• Plans for a major recreation facility in northwest Lawrence are rapidly evolving, and it is clear they aren't becoming any less major. In fact, they're getting slippery. Mayor Bob Schumm said a new version of the plans that he was presented with on Monday included an indoor ice-skating rink.
An ice rink, though, is just one of many details starting to emerge. Schumm also confirmed that the current plans for the building check in at 300,000 square feet of indoor space, in addition to a 15,000-seat outdoor track and field stadium that would accommodate the Kansas Relays and other events.

None of the plans is set in stone, but the private developers — which include Thomas Fritzel, Steve Schwada, Duane Schwada and members of the Gene Fritzel Construction Company — are intent on creating a destination-style venue.
Plans still call for about eight full-size basketball courts that also could be used for volleyball and other indoor sports. But apparently, the idea of an ice rink has replaced a previous idea for an indoor arena.
I've been told by other sources, though, that the ice rink is the most speculative part of the proposal at this point. There have been some concerns the expenses of operating an ice rink may add unnecessary risk to the project.
So, we'll see if that idea survives the weeks ahead. Schumm told me he hopes to have firm plans for what could be done at the site within the next 60 to 90 days. That would be about the time city commissioners would formally hear a request to rezone the site, which is at the northwest corner of Sixth Street and the South Lawrence Trafficway.
It will be interesting to see how grand the final plans ultimately are. I get the sense that participation by Kansas University will go a long way in determining just how large the project will be. KU Athletics long has had a vision of creating a "village" for many of its Olympic sports programs.
The current plans would get the ball rolling on that idea. In addition to the 15,000-seat track and field venue, the plans include a new outdoor soccer venue as well.
Schumm said, from his standpoint, the city's philosophy on the financial aspects of the project hasn't changed. He still believes the city will be able to cover its share of the project by using money from the previously approved county-wide 1 percent sales tax. Voters approved that sales tax, in part, to fund recreation projects. The city is paying off several bonds which will free up about $13 million to $15 million worth of new debt capacity for the city.
But Schumm said he believes the city will consider forgoing issuing new debt on the project. He said discussions have included the private developers financing the project, with both the city and KU making lease payments. At the end of a 20- to 25-year period, however, the city would fully own the project. The city will insist that it own the actual real estate from the very beginning of the deal.
The project is shaping up to be one of the more substantial public-private partnerships in recent memory. At some point, the details will have to start firming up. Until then, the wife and I will start ironing our old figure skating outfits. She insists, though, that she gets to throw me in the air.
• Schumm and I were both at the Downtown Lawrence Inc. annual breakfast meeting this morning. Schumm was the featured speaker, and I was the featured breakfast hog. (Yes, I did take two sweet rolls.)
During his remarks to the crowd, Schumm made a point to express some disappointment over last night's decision by the city's Historic Resources Commission to reject a key part of the proposed multi-story hotel/retail project at Ninth and New Hampshire.
"I was hoping when I read my paper this morning that the HRC would have approved that project, but it didn't," Schumm told the crowd of about 40 downtown merchants and business owners. "I hope to get something resolved on that soon."
The HRC rejection — it approved two provisions of the plan but rejected one — doesn't kill the project. Instead, developers can file an appeal with the City Commission. If a majority of city commissioners believe there isn't a feasible and prudent alternative to the project, the building can move forward.
Schumm said he fully expects such an appeal to be filed, and he said he would try to process it soon.
"I would expect it to come to the City Commission in the next two or three weeks," Schumm said.
Schumm didn't forecast how he would vote on such an appeal, but let's shoot straight here. Schumm and City Commissioner Mike Dever both asked the developers to present this new plan, which eliminated one story for the proposed building.
That seems to be a good indication that those two commissioners find merit in the new proposal. That would mean opponents of the project would need to win over all three of the other commissioners. No margin for error there.
But there is a very big wildcard in all of this — the legal process. When city commissioners conduct an appeal of a Historic Resources Commission decision, it is a quasi-judicial proceeding. Commissioners are supposed to make a decision based on a certain set of guidelines, many of which are spelled out in case law.
Several East Lawrence residents already have hired local attorney Ron Schneider. He's the attorney who has successfully represented several neighbors who have been concerned about industrial zoning near the Lecompton interchange on the Kansas Turnpike.
What will city attorneys tell commissioners about their legal footing on this appeal process? Are East Lawrence residents committed to going through the expense of a lawsuit? Those may be important questions in the days ahead.
• Maybe we should all just eat cake instead. You'll have an opportunity this afternoon (Tuesday, May 1) to stuff your purses and pockets full of cake (what, you're not supposed to do that?) at a celebration hosted by Douglas County Bank.
The Lawrence-based bank is celebrating its 60th Anniversary with an event from 4:30 p.m. to 6:30 p.m. at the downtown bank at Ninth and Kentucky streets. Refreshments will be served and a brief ceremony will take place at 5:30.
Douglas County Bank opened on May 1, 1952. The Ross Beach family purchased the bank in 1964, and that has been the only ownership change in the bank's history.
Mr. Beach died in November 2010, but Douglas County Bank President Ted Haggart told me this morning that the bank's ownership situation is as solid as ever.
"Mr. Beech is still our guiding light," Haggard said. "The Beach family still has complete ownership of the bank, and is very committed to operating a community-oriented, independently owned bank."
Copyright 2018 The Lawrence Journal-World. All rights reserved. This material may not be published, broadcast, rewritten or redistributed. We strive to uphold our values for every story published.