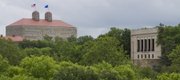 Subscribe to the email edition of Heard on the Hill and we'll deliver you the latest KU news and notes every weekday at noon.
Your daily dose of news, notes and links from around Kansas University.
• We've nearly made it to the end of the academic year, and that means it's time again for retired KU French professor Ted Johnson's annual Stop Day Walking Tour of KU.
You can join up for the "informal, peripatetic, Socratic dialogues growing out of various sites" that will take place from 9 a.m. to 6 p.m. Friday.
It begins in front of the Natural History Museum near 14th Street and Jayhawk Boulevard at 9 a.m. In case the weather is nasty, it will start inside nearby Lippincott Hall.
You can pop in and pop out of the tour throughout the day. A complete schedule of events is available online here.
You might even be lucky enough to catch a glimpse of your (not-so?) humble correspondent if you're lucky.
• "Jeopardy" champion Ken Jennings (who apparently is writing columns now?) gives an interesting little bit of side information on a well-worn story around here.
I've heard many times about how being the hometown of Google Earth co-inventor and Google executive Brian McClendon led to Lawrence (and Meadowbrook Apartments, specifically) become the "center of the Earth" on Google Earth.
If you keep zooming in farther and farther you eventually get to the southwest corner of a building in Meadowbrook Apartments near the KU campus.
"It centers on the approximate location of my bedroom from childhood," McClendon told Jennings. "I actually lived there from age four through age 18."
Jennings points out that while Google Earth is the center of that universe, McClendon's boyhood home isn't viewable on Google's Street View.
"When Google's camera vehicle visited the area a few years back taking street-level photographs, they drove right by dozens of other buildings in the complex, but managed to bypass the parking lot to Brian McClendon's building completely," Jennings said. "It may be the anchor point of Google Earth, but it's missing entirely from Google Street View."
• This has never been exactly clear to me until now, so I'll just pass this along quickly to update the search for a new leader for KU Medical Center.
The outgoing leader, Barbara Atkinson, held two jobs — the executive vice chancellor of the medical center (overseeing all the schools therein, including the School of Medicine, School of Nursing and School of Health Professions) and the Executive Dean of the School of Medicine.
I spotted this position description that outlined for me how this process is designed to go. First, KU hopes to hire a new executive vice chancellor. That person will also serve as the interim executive dean of the medical school until a new person is hired.
KU had originally been trying to find a dean first and an executive vice chancellor later. That may have been a little difficult with that person coming in without knowing who the boss would be.
• It may not exactly be peripatetic (unless you're reading on your mobile phone), but Heard on the Hill is marching forward nonetheless, thanks as always to your tips you keep on sending me at ahyland@ljworld.com.
Copyright 2018 The Lawrence Journal-World. All rights reserved. This material may not be published, broadcast, rewritten or redistributed. We strive to uphold our values for every story published.