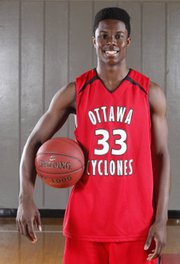 Player of the year
Semi Ojeleye,
Ottawa junior
In the words of coach Jon McKowen, Ojeleye, the 6-foot-7 forward whom everyone hoped to stop — or at least slow down — was an "amazingly consistent scorer." Regardless of the defense thrown at Ojeleye, he always came close to or eclipsed his season scoring average of 32.5 points a game. His lowest point total for the season was 25, and Ojeleye led Ottawa to a second-place finish at the Class 4A state tournament.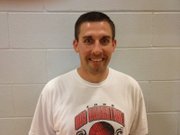 Coach of the year
Jon McKowen, Ottawa
With the help of players such as Ojeleye, Dallas Natt and Alex Hasty, McKowen's Cyclones nearly were unstoppable in 2011-12. OHS put together a remarkable one-loss regular season and didn't lose a second time until falling to Basehor-Linwood, 56-52, in the 4A state championship game. Ottawa finished the season 24-2.
First team
• Thomas Diaz, Seabury Academy — A Bogota, Colombia, native, the 6-foot-5 guard averaged 13.3 points and 7.0 rebounds for the Seahawks, who won a 1A-Division I sub-state championship.
• Dane Erickson, Tonganoxie — The Chieftains' All-Kaw Valley League center eclipsed 1,000 career points during his senior season and averaged 16.8 points and 8.0 rebounds while shooting 59.3 percent from the field.
• Brett Frantz, Free State — The 6-foot-1 versatile Firebirds guard led his team with 13.7 points a game and 37 percent three-point shooting. Frantz also contributed 3.7 rebounds and 2.0 assists.
• Georgi Funtarov, Seabury Academy — A 6-foot-7 senior forward from Bulgaria, Funtarov did damage inside and outside for the Seahawks, averaging 21.7 points and 9.0 rebounds as Seabury advanced to the 1A-Div. I state tournament.
• Logan Henrichs, Lawrence — Not only did the 6-foot-2 senior guard average 10 points, 6.0 rebounds and 2.8 assists for the Lions (13-8) while hitting 38 percent of his three-pointers, he led LHS with 12 charges drawn.
• Khadre Lane, Seabury Academy — A 6-foot-4 explosive sophomore shooting guard, Lane averaged 18.3 points and 6.0 rebounds for the Seahawks, who lost at the 1A-Div. I state tournament to eventual champ Ashland (26-0).
• Semi Ojeleye, Ottawa — The lethal 6-foot-7 small forward averaged an astounding 32.5 points a game and pulled down 8.2 rebounds for 4A state runner-up OHS.
• KJ Pritchard, Lawrence — A 6-foot-5 senior guard, Pritchard led a balanced Lions attack with 11 points a game on 41 percent shooting while chipping in 3.0 rebounds and 2.7 assists.
• Nathan Stacy, Mill Valley — The Jaguars' 6-foot-4 junior forward led his team with 21.0 points, 10.6 rebounds, 3.4 assists and 2.1 steals, racked up 11 double-doubles and rarely left the floor, averaging 31 minutes a game.
• Mason Wedel, De Soto — The Wildcats' All-Frontier League 6-foot guard, who is headed to UMKC, averaged 23.2 points on 69 percent shooting, 4.2 assists and 2.9 steals for DHS (17-5).
Honorable mention
Andrew Ballock, Eudora; Cornell Brown, Baldwin; Jacob Brown, Wellsville; Anthony Buffalomeat, Lawrence; Alex Dahl, Santa Fe Trail; Joey Johnson, De Soto; Jonathan Denton, Perry-Lecompton; Carter Gish, McLouth; Shamus Kearney, Wellsville; Dallas Natt, Ottawa; Elijah Penny, Veritas Christian; Nolan Rush, Wellsville; James Sage, Santa Fe Trail; Tyler Shaffer, Santa Fe Trail; Gavin Swearngin, McLouth; Marc Walbridge, McLouth.
Copyright 2017 The Lawrence Journal-World. All rights reserved. This material may not be published, broadcast, rewritten or redistributed. We strive to uphold our values for every story published.