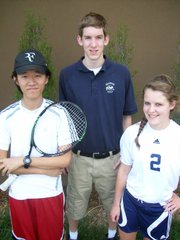 The start of the season means new opportunities for the spring sports teams at Seabury Academy.
Levels of experience vary greatly between the girls soccer, boys tennis and golf programs for the Seahawks, but each team is set on improving in 2012.
Boys golf
Though Seabury's golf team lacks a state qualifier from last year, the Seahawks have plenty of returning golfers in coach Eric Edwards' fourth season.
Senior Jesse May and juniors Fischer Almanza, Frank Depenbush, Brandon McCaffrey and Michael Kressig return. Plus, Seabury has a pair of freshmen, Marcel Cortez and Charlie Arnold, who were involved with the program as eighth-graders, and five new players will be in the fold this season.
Edwards said he is excited about the upcoming season, because the team has such improved numbers.
"Last year we had a total of six varsity players," the coach said. "For 2012, we will have 12 players. The increased day-to-day competition for the top six spots will help us down the road at regionals and hopefully state."
Juniors Almanza, Depenbush, McCaffrey and Kressig form the team's core, Edwards added, and because they have played since they were freshmen, the Seahawks will have plenty of experience driving them toward their goals.
Seabury's first tournament is Tuesday in Kansas City, Mo.
Boys tennis
After coaching the Seabury girls team the past two years, this will be John Richey's first season leading the Seahawks' boys tennis program.
While no one on last year's team qualified for state, Richey will have some experienced players coming back to give the team a nucleus around which it can build. Guangwei Fu, a senior, was Seabury's No. 1 singles player last season, and returning doubles players include Peter Cooney and Austin Sweeney.
The Seahawks also have a sophomore, Joe Simpson, whom Richey expects to contribute on the varsity level.
Despite having a relatively young team, Richey said he and the players feel good about this season, because there is talent on the team to pair with positive chemistry.
"The group is willing to do the work necessary to improve, and we think we have a chance to qualify some players for state," he said.
The tennis season begins at 3:30 p.m. today with a trip across town to Lawrence High.
Girls soccer
Given the number of experienced players returning to Seabury's girls soccer team, fourth-year head coach Ivo Ivanov couldn't be more excited about his squad's potential.
Defenders Charlotte Birch and Taylor Sweeney, midfielders Heidi Dumesich, Eilish Gibson, Alyson Oliver and Emily Padgett, as well as forwards Raquel Dominguez and Hannah Spomer give the Seahawks continuity and chemistry.
"Most of the girls have been together for three years," Ivanov said, "and we are now at a point where we can actually achieve a more seamless connectivity between defense, midfield and offense."
Seabury should benefit, too, from impact newcomers. Ivanov said midfielder Hannah Gibson, as well as goalkeepers Reilly Malone and Sarah McDermott should contribute this season.
Dominguez used to be Seabury's goalkeeper, but after Lexi Brady, the team's leading scorer in 2011, transferred to Free State, Ivanov moved Dominguez to forward to capitalize on her athleticism.
The coach said the players have been through much the past few years, and that has contributed to their growth.
"Win or lose, they always exhibit great work ethic and sportsmanship in practice and games," Ivanov said, "and have never failed to make proud their families, school and community."
Seabury lost its season opener, 1-0, Tuesday at Kansas City Christian. At 4:30 p.m. Tuesday, the Seahawks will play host to Hyman Brand.
Copyright 2018 The Lawrence Journal-World. All rights reserved. This material may not be published, broadcast, rewritten or redistributed. We strive to uphold our values for every story published.