Few are as qualified to talk about the dangers of bigotry and intolerance as Holocaust survivor Eva Edmands.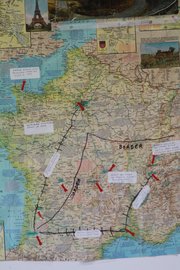 On Wednesday afternoon, Edmands visited with sixth-graders studying the Holocaust at St. John Catholic School.
Edmands, who was born the same year as Anne Frank, also went into hiding as a child and kept a diary. As she talked, Edmands pointed to a map of France, passed out photos of herself as a young girl and showed copies of a fake French identity card.
Edmands has shared her stories hundreds of times to schools, civic groups and churches. She does so to keep the tragedies of the Holocaust alive.
"The great fear we have as survivors, because we are going to be gone in a few years, is who is going to keep the story going?" Edmands asked the class.
She urged them to learn from history.
"Whenever you hear somebody say something nasty about someone else, it is your duty to speak up," she said. "Will you promise me that?"
'Things would never be the same'
Edmands began her story in Austria, a country that was "like a little mouse surrounded by big cats." Her parents were Jewish, although they didn't practice the faith. Her father was a journalist and her family lived in a nice apartment in Vienna.
"I had everything a little girl my age would want," she said.
But that was before 1938, when Germany invaded Austria. Edmands was in second grade, and other children began calling her terrible names and hitting her.
"I didn't understand why they were doing it. I was a little child," she told the class. "That was the beginning of when I realized things would never be the same."
Two Gestapo officers and their vicious dog came to her house and took her father away for questioning. Three days later he returned.
"We knew we had to leave, because it was dangerous," Edmands said.
Before she left, she collected the names of her family and friends in an autograph book. "Don't ever forget your grandma and grandpa," is among the messages written in it.
When the Gestapo returned to the house and found her dad missing, Edmands said, they went to her grandparents' house.
"They took (my grandmother) away screaming," she said. "She died in a camp, and my grandpa did too. One of the reasons I give this talk is to preserve their memory."
Living conditions
The family fled to Paris, taking a train that passed through Germany on the way. In France, they lived in a tiny apartment with Edmands and her mother sharing a bed and her father sleeping in the attic.
After Germany's occupation of Paris, Edmands father was shipped to a labor camp in the south of France. Edmands and her mother left Paris to be with her father, a journey of more than 600 miles that required crossing from the part of France that was occupied by Germany to the area controlled by France. Edmands crawled through barbwire in a dress to cross the border.
When her father was warned that he was about to be sent to Germany, the family fled again and made an unsuccessful attempt to cross into neutral Switzerland.
The family finally found shelter with the Roman Catholic priest L'abbe Claudius Longeray in the rectory of Saint Martin, a mountaintop parish in Annecy, France. Longeray hid them in an unused boiler room in the subbasement of the rectory.
"It was no bigger than your average walk-in closet. No windows, just a door going into the fields," she told the class.
Her father would sneak out at night to chop wood, and they had a garden plot for planting vegetables and potatoes. Edmands was able to attend school, and in the summer she watched the priest's flock of 30 sheep.
For three years, they were cared for by the priest.
"Here was a man who lived the faith every day," Edmands said. "To me, he was a saint."
In the years after France was liberated, Edmands' family immigrated to the United States. But not before she made a promise to herself.
"When we finally left, I made a vow that I wanted the whole world to know what this man had done for us," she told the class.
After his death, the priest was awarded the Medal of the Just, the highest honor given by The Yad Vashem, Israel's official memorial to the Jewish victims of the Holocaust. On the medal, which is displayed in the father's church, are the words from the Talmud: "He who saves one life saves all of humanity."
"Isn't that beautiful?" Edmands asked the class.
Copyright 2018 The Lawrence Journal-World. All rights reserved. This material may not be published, broadcast, rewritten or redistributed. We strive to uphold our values for every story published.