Free State girls soccer opened the season with a 7-0 win over Shawnee Heights at home on Tuesday.
Free State scored six goals in the first half. Maddie Dieker scored four of the Firebirds' seven goals. Kylee Loneker, Margaux Gill and Tanna Fanschier each scored a goal for the Firebirds.
Free State (1-0) hosts Shawnee Mission South on Tuesday.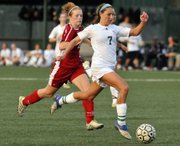 Copyright 2018 The Lawrence Journal-World. All rights reserved. This material may not be published, broadcast, rewritten or redistributed. We strive to uphold our values for every story published.