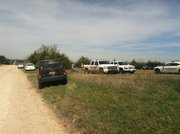 Carbondale — Dozens of law enforcement officers and search dogs on Monday continued to scour the area where human remains were discovered Saturday evening in Carbondale, a town about 15 miles south of Topeka with a population of about 1,400.
Osage County Sheriff Laurie Dunn said a mushroom hunter discovered the remains on 118th Court, just off Wanamaker Road, but Dunn has not yet disclosed more specifics about what was found.
Other news services, including The Associated Press, have reported that a skull was found.
"We've searched quite a bit of the area," Dunn said in front of a makeshift home base in an open field, as law enforcement shuttled in and out of a wooded area. Dunn said officers had covered about a half-mile radius but had yet to find any other remains.

Dunn said the nature of the case — whether it's a possible homicide, suicide or death by natural causes — remains unclear.
"I don't know what this is yet," she said.
In addition to Osage County law enforcement, Dunn said law enforcement officers from the Northeast Kansas "M-Squad," comprised of representatives from numerous law enforcement agencies including the Douglas County Sheriff's Office, were assisting in the search.
While crews search for more evidence or clues, Dunn said they'll also be trying to connect the remains to any missing persons cases, though there aren't currently any in Osage County, she said. The remains have been collected by a coroner, but results from any testing could be weeks or months away.
Dunn said that crews would probably continue to search through Monday evening and that she wasn't sure when the search would be called off.
Two homes are near where the remains were found, including the home of Dean Crader, who said the area was popular among mushroom hunters. Crader said he's lived in the area for only the past few months and had also planned to go mushroom hunting until he saw all the law enforcement in the area.
"It surprised me," Crader said. "I'm not going out in the woods."
Human remains found west of Carbondale
Copyright 2013 The Lawrence Journal-World. All rights reserved. This material may not be published, broadcast, rewritten or redistributed. We strive to uphold our values for every story published.