Kansas University's tennis team fell to 13th-ranked Baylor, 4-3, on Saturday at the Jayhawk Tennis Center.
Photo Gallery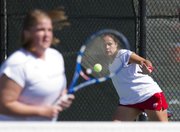 Kansas tennis vs. Baylor
KU (9-6 overall, 0-3 Big 12) split singles matches with BU, as Claire Dreyer won in straight sets (6-3, 6-3), Dylan Windom claimed victory on a tiebreaker (6-7, 7-6, 12-10) and Victoria Khanevskaya won by default. Khanevskaya and Dreyer were the only Kansas doubles team to beat the Bears.
The Jayhawks will take on Texas Tech at noon today.
Copyright 2018 The Lawrence Journal-World. All rights reserved. This material may not be published, broadcast, rewritten or redistributed. We strive to uphold our values for every story published.