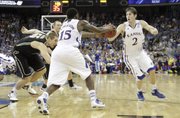 I was going to write about different sensor sizes in digital cameras this week but I fell asleep at my computer due to subject boredom. Another time maybe. Instead I want to mention a book I've been reading and relate it to recent photo coverage by the Journal-World staff.
The book is "River of Shadows: Eadweard Muybridge and the Technological Wild West" by Rebecca Solnit. Muybridge invented high-speed photography in the 1870s. One of his most famous series, "The Horse in Motion," captured a sequence of still photographs of a horse in full gallop. It revealed what the human eye had been unable to detect and what many at the time had debated: that all four of the horse's hooves leave the ground simultaneously. Some notable painters of the time were compelled to re-paint, and repent, their earlier misrepresentations of a horse in motion. Later, Muybridge created a Zoopraxiscope that displayed a rotating disc of a sequence of images, a precursor to motion pictures.
Flash forward 140 years and high-speed photography is a necessity for photojournalists. With some cameras, it's possible to capture five to 10 still images a second, ensuring that moments of significance are captured, especially in fast-paced sporting events.
While photographing the KU men and women competing in the NCAA basketball tournaments, photographers may fire off six frames a second, just to catch one image of a game-changing steal, dunk or three-point shot. The other five images are edited out and rarely seen. They become the discarded "shots in-between" because they don't necessarily document a critical moment of action or reaction.
But some of these photos can reveal interesting moments that the spectators' eyes don't detect. Muybridge's high-speed revelations were probably in the back of my mind recently as I reviewed photographs from the KU men's win over Purdue last Sunday.
Among several still-frame images and "shots in-between" were toward the end of the game, when I spotted two consecutive photographs demonstrating some undetected quickness of No. 15, Elijah Johnson.
With 1:06 left on the clock and KU down 57-60, a loose-ball rebound near Purdue's basket is suspended chest-level, equal distance between Elijah Johnson, Conner Teahan and Purdue's Sandi Marcius. The ball may actually be closest to Marcius.
Nevertheless, on the next frame, with the game clock still showing 1:06, Johnson's hand is on the ball securing the rebound. By 1:03, Johnson has passed the ball ahead to Tyshawn Taylor who dunks for a 59-60 score. Later, Johnson's speed helps him with a steal and a breakaway layup to provide KU with a 61-60 lead.
These photo revelations are not as groundbreaking as Muybridge's studies, but during NCAA tournament time it's nice to know that what goes undetected by the spectators' eyes can be good news for Jayhawk fans.
Copyright 2018 The Lawrence Journal-World. All rights reserved. This material may not be published, broadcast, rewritten or redistributed. We strive to uphold our values for every story published.