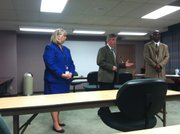 TOPEKA — A handful of people sit at small tables in a long, narrow room in the Landon State Office building in Topeka on Wednesday.
As people enter, a woman approaches and asks, "Are you here to support or oppose?"
Three people — two men and a woman — sit facing the visitors. One of them calls up "No. 3."
It quickly becomes clear that the three chairs set up in front won't be enough. More are added, and in total, eight people sit in front of the state of Kansas' Prison Review Board with one mission: keep Sherman L. Galloway behind bars forever.
Michael Riner, a retired Kansas University police officer who helped arrest Galloway, is one of the first to speak to the three-person board.
"There aren't a lot of things I'm afraid of, but he's one of them," he tells the board.
The Kansas Prison Review Board
l In a cost-saving measure, the Review Board replaced the Parole Board in 2011 following an executive order by Gov. Sam Brownback.
• The three-member board is overseen by the Kansas Department of Corrections.
• Since the board began operating in July 2011, parole has been granted to 39.5 percent of offenders who have been parole eligible. Those numbers are similar to the percentage of paroles granted under the Parole Board between 2007 and 2011, when the rate fluctuated between 32 and 40 percent.
• In 2011, the board handled nearly 500 cases.
• The board also handles about 100 parole revocation hearings a year.
For the next half-hour, the board hears from several people involved in Galloway's 1981 Douglas County rape case.
Every month, the board hears the vivid details of cases like Galloway's: sex crimes, brutal assaults or murders that happened decades ago.
"For the victim, that trauma is still there. They're reliving it again," said David Riggin, head of the board. "It's the hardest part of the job."
Unforgettable attack
Jean Rhea was a KU student, a tennis teaching professional and the women's head tennis coach at Baker University in Baldwin City in 1981. She was working to become a collegiate women's coach and professor.
On the hot, humid evening of July 8, 1981, Rhea set off for a two-mile jog along Memorial Drive on the KU campus. It was 10 p.m., and Rhea said she thought the street would be safe because it was well-lighted and well-traveled.
"As I came around the Campanile and got up close to Snow Hall, I heard footsteps running hard behind me," Rhea said. "As I turned to look, a hand grabbed the back of my head and a knife was put to my throat and a voice told me, 'If you make a word I am going to kill you.'"
"And with a knife at my throat, he then drug me across Memorial Drive over to shrubs and bushes that were on the other side and up above Potter Lake. He raped me. He bit me. But more than anything, he threatened to kill me every minute when I was with him if I didn't do exactly what he said."
At one point, Rhea said, she made a decision to fight back because she feared he would kill her.
"I got up and started moving away very quickly because I knew he was in a position where he couldn't run after me. But he did. He popped up and he ended up landing on top of me, and we rolled down the hill and we ended up in Potter Lake, and he told me, 'I am going to kill you' and I stopped the knife before it entered my chest. And I put my feet on his chest and pushed him off of me, which I don't know how I ever did.
"And then I got up and I ran. He had his jeans around his ankles so he couldn't chase me right off."
Rhea, who was naked and bleeding, ran toward Memorial Drive where a passing driver stopped his car near the Campanile just in time. She jumped in the passenger side of the car as Galloway started running up the hill after her.
The driver, the late Paul Mott of Eudora, took Rhea to her home, and her roommates called KU police. She then went to Lawrence Memorial Hospital and underwent testing with a rape kit.
On Dec. 4, 1981, Galloway was found guilty of aggravated sodomy and rape.
Another victim came forward after Rhea's case. Galloway had robbed, kidnapped, raped and sodomized her a month before Rhea's attack.
Galloway was given another sentence of 30 years to life in prison on May 25, 1984. He is serving the sentences consecutively. But because of sentencing laws, he became eligible for a parole hearing in 1996 and has been eligible at various intervals since.
Rhea, who now lives in California and works as a psychologist for a large nonprofit, rattles off the years Galloway has been eligible for parole; seven times since 1996. Each time, she must revisit the crime and mobilize her army of advocates and relatives to fight to keep Galloway locked up.
The board
Last year, the Prison Review Board reviewed nearly 500 cases of Kansas inmates eligible for parole. With now-defunct indeterminate sentencing laws from decades ago, offenders such as Galloway, who were given a life sentence, are usually eligible for parole much sooner, said Riggin, head of the board. And most of the cases the board reviews involve very old — and violent — crimes.
The board, operated by the Department of Corrections, holds public comment sessions every month in Wichita, Kansas City and Topeka, giving victims, and offenders' families, a chance to advocate against, or for, an inmate's release.
"They become fairly traumatic," said Riggin, as families with very opposing viewpoints tell their story, all in the same room. Working with a victim services coordinator, Riggin said the board does its best to keep the sides separate if they choose. At some hearings, only a few people show up. Other times, dozens attend.
Victims and families are free to attend any and all of the three sessions held monthly. For example, several members of Rhea's family went to the Wichita session Tuesday, while her other advocates came to Topeka on Wednesday.
No one from Galloway's family attended.
After the public comment sessions, the board speaks with the offenders and votes on a decision. Riggin said a wide variety of factors influence their decisions. In some cases, an offender came in at a young age, has shown remorse and worked hard at treatment programs.
"Is that individual the same person?" asked Riggin, of one of the main questions the board considers.
That's often weighed against likelihood of reoffending.
"We're going to look at an offender's risk," he said.
The board has several options in each case. They can grant or deny parole. If they deny, they then decide how long before the offender's case will be heard again. The minimum is one year, the maximum is 10. Galloway, for instance, had parole hearings in 1996, 1999, 2004, 2005 and 2007.
'We deserve a break'
Rhea, who planned to attend Wednesday's hearing but missed it because of a canceled flight, said she hopes the board denies Galloway's parole and gives him a 10-year wait before he's eligible again.
"We deserve a break," Rhea said.
Rhea's advocates told the board about Galloway's defiant attitude and threats made against them.
Paula Kissinger, also a retired KU police officer, was the officer initially dispatched to handle Rhea's case. Kissinger testified at the trial and has spoken at several of the parole hearings. The last time she spoke, she said she received a call a few weeks later from a Kansas prison. The person on the other end didn't speak. Kissinger said she assumes it was Galloway.
Riner, the retired officer, said Galloway threatened to rape the female members of his family and kill Riner if he were ever released.
"We take very seriously the threats he's made," Riner said.
Each time Galloway is eligible for parole, it's a painful reminder of the crime, Rhea said, who struggled with substance abuse and post-traumatic stress disorder for years after the attack. She credits the people in her corner, such as Kissinger and Riner, for helping her get through it. She encourages victims to speak out and find those who want to help.
A sexual assault "can be socially isolating," Rhea said. "They don't have to do it alone."
As the years pass, Rhea said she's grown stronger, and facing the crime is somewhat easier.
"It is empowering," Rhea said of fighting to keep Galloway behind bars. "I'm glad I stood up and continue to stand up."
Copyright 2018 The Lawrence Journal-World. All rights reserved. This material may not be published, broadcast, rewritten or redistributed. We strive to uphold our values for every story published.