William Quantrill's attack on Aug. 21, 1863, will forever be Lawrence's Bloody Dawn, but now a well-known piece of artwork by the same name is looking for a new home.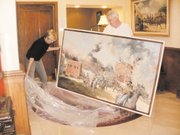 Ernst Ulmer's original oil on canvas painting — depicting a smoke-filled Massachusetts Street swarming with Quantrill's raiders — is now being offered for $30,000 at a Kansas City art gallery, and the art broker is working to persuade community leaders the piece ought to land in Lawrence.
"I want it to be in Lawrence," said Kathy Drungilas, a former Lawrence resident who is handling the sale for the Buttonwood Art Space. "It just needs to be in Lawrence. The old Eldridge Hotel is in the picture. Anybody from Lawrence knows exactly where they are on Mass. Street."
Drungilas said the painting, which is 4 feet by 6 feet, deserves a fitting home. Shortly following Ulmer's death in 2009, "Bloody Dawn" and many of his works have been on display at the Kansas City Club — as in Kansas City, Mo.
"I love that it is on exhibit, but I feel funny that it is on the Missouri side of the line," Drungilas said.
Drungilas said she has reached out to some community members and has received a good reception but no sale.
"I think everybody likes it, but no one has put forward a coordinated effort to secure it," Drungilas said of the image, which has been seen in Lawrence several times through prints that have been made of the original.
Steve Nowak, executive director of the Watkins Community Museum of History, said his organization hasn't made any effort to secure the piece of art, but he hopes someone in the community will consider doing so.
"It would be great if there were a generous donor out there who wanted to purchase it and make it available on loan for the public to see," Nowak said. "That is always a great way to get it into the public's eye without trying to raise public dollars, which can be very difficult."
Plus, Nowak said, the large painting could be helpful to visitors who sometimes have a hard time visually comprehending Quantrill's raid.
"You know, they didn't take snapshots back then," Nowak said.
Drungilas said Ulmer, a Kansas City artist who gained national renown after celebrities such as Colin Powell began purchasing his historical scenes, was a meticulous researcher who aimed for authenticity in his works.
"I don't think there is a more prominent image of Quantrill's Raid out there," Drungilas said. "I think he is the first artist of any renown to tackle that page of our history.
"It is a significant piece. We all have heard about the raid, but without seeing the flames and the destruction, you don't really get a sense of it."
Copyright 2017 The Lawrence Journal-World. All rights reserved. This material may not be published, broadcast, rewritten or redistributed. We strive to uphold our values for every story published.