The search for a 44-year-old man, who was described as armed and dangerous and has a history of running from authorities, ended abruptly Wednesday as officers from several agencies descended on a property just outside Lawrence.
Russell Dean Baston, who was wanted in connection with a Saturday burglary in central Jefferson County, was arrested just before 1 p.m. Wednesday after he resisted arrest from officers just north of the Lawrence city limits, said Sgt. Steve Lewis, a Douglas County Sheriff's spokesman.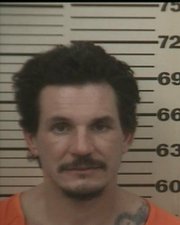 Jefferson County Sheriff Jeff Herrig said Wednesday afternoon that Baston was taken to jail in Jefferson County to face charges there as authorities continue to investigate him for other potential crimes in Douglas, Leavenworth and Shawnee counties. Less than 24 hours before Baston's arrest, Herrig's office had asked for the public's help in locating Baston and a truck he had allegedly stolen from Topeka. Hours before they arrested Baston, Lawrence police had found the truck, which contained what they suspected was property stolen from Leavenworth County, Herrig said.
"I'm very satisfied. I'm disappointed that we ended up with another burglary in another county," Herrig said. "Other than that, it was a pretty quick response in getting him captured."
About noon Wednesday, Lewis said area investigators determined Baston was at a residence in the 1700 block of East 1500 Road, which is an extension of North Seventh Street in North Lawrence. They asked sheriff's officers for assistance. Baston ran from the house to an outbuilding on the property and tried to run back into the house just before he was apprehended, Lewis said.
Baston resisted arrest. Lawrence police and Leavenworth and Jefferson County sheriff's officers also were on the scene. Baston declined medical treatment by ambulance workers, but he was taken to be examined at Lawrence Memorial Hospital before he was taken to jail, Lewis said. Two officers who received minor injuries were treated at the scene.
Herrig said that during the Saturday burglary for which Baston has been charged, Baston was suspected of firing a round while inside a house, but the victims were not home at the time and no injuries were reported.
Herrig said Lawrence police are expecting to send information to the Douglas County District Attorney's Office for possible charges against Baston related to the resisting arrest allegations.
In the past, Baston has spent time in prison for a 1995 Douglas County robbery and for escaping from the Douglas County Jail in January 1996, when the jail was at 111 E. 11th.
Copyright 2018 The Lawrence Journal-World. All rights reserved. This material may not be published, broadcast, rewritten or redistributed. We strive to uphold our values for every story published.