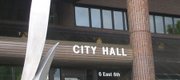 Subscribe to the email edition of Town Talk and we'll deliver you the latest city news and notes every weekday at noon.
News and notes from around town:
• If you are like me, you have kids running around your house re-creating scenes from Star Wars or Transformers or one of their original screenplays. (They are usually a heist caper. My patience always ends up disappearing.) Or maybe you run around your house trying to re-create scenes from movies. (Let me tell you, I've stuffed my mouth full of cottonballs and made plenty of "offers you can't refuse," only to be refused. Evidently, Don Corleone wasn't dealing with my wife.)
Well, there soon will be a new business in downtown Lawrence where kids and adults can let their movie-making magic run free. Veteran documentary and promotional film-maker Dan Ginavan is opening LightLyre Films at 731 N.H, the former home to a used-bicycle shop.
The business has a couple of different aspects to it. One is a summer camp theme. The business will host two, four-week summer camps designed to take youths through the whole process of shooting, editing and animating an entire short film. At the end of the camp — which will run from 7:30 a.m. to 5:30 p.m. — students will have produced an original film that can be shown to family and friends and even entered into contests.
The second aspect of the business is more geared to adults. Ginavan will offer a six-week training course focusing on specific areas of interest to budding filmmakers. After the six-week course, individuals can get access to the facility to use the editing equipment, sound stage, cameras and other amenities needed to produce their own film.
"You can buy a membership like you would to a gym," said Ginavan. "We'll have the thousands and thousands of dollars worth of equipment, and we'll have the people with the expertise to help you out."
Among the high-tech pieces of equipment the business eventually will have includes a green screen and sound stage, 12,000 watts of stage lighting, up to three professional editing bays, and a movie theater-like screening room. The screening room will give budding filmmakers a nice place to premiere their own films, but also will be available for folks who just want to rent a place to watch a movie in style.
Ginavan went to film school at KU in the 1990s and then received his master's of fine arts from National University in Los Angeles. He then came back to Kansas and became the creative film maker at KU Medical Center. In a dozen years, he made more than 300 films for the hospital, everything from documentaries to patient education pieces.
But he said the idea of having a business that taps into the artistic energy of Lawrence has long appealed to him.
"I'm a very strong believer in the artistic community, the creative community of Lawrence," Ginavan said. "Plus, I believe that everybody — or at least 85 percent of everybody — has a movie bouncing around in their heads."
Ginavan plans to begin having open houses at the business about May 1. The summer camp program — which likely will cost from $150 to $170 per week — will begin in early June.
• There certainly has been a lot of discussion about how the arts can be bigger business in Lawrence, and Ginavan's new venture plays into that theme. I think others also are trying to create new arts-related businesses, especially businesses that try to help budding artists.
My understanding is that a company called Studio 500, LLC recently has purchased about 3,000 square feet of space at 500 Locust in North Lawrence. Studio 500 LLC is headed up by Marti Mihalyi, according to the Kansas Secretary of State's office. Mihalyi, I believe, is a poet, a former poetry instructor at the University of Idaho, and the current writer-in-residence at Baker University. I haven't had a chance to get in touch with Mihalyi yet — so take this for what it is worth — but I've been told she is working to create some sort of business around the idea of creative writing or creative writing instruction. Sounds intriguing, and I'll let you know if I learn more.
• While we're on the subject of things I don't know much about (if we're actually on that subject, get a comfortable chair), plans have been filed for a new Alzheimer's unit out in West Lawrence.
Lawrence architect Paul Werner has filed for a special-use permit for a 5,000-square-foot extended medical care facility on vacant ground along Research Park Drive. Plans call for a 5,000-square-foot facility on the west side of Research Park Drive between Bob Billings Parkway and 18th Street. The permit actually will allow for two separate buildings, but Werner said the first phase only will involve the construction of one 5,000-square-foot unit — which Werner said will have a very residential look to it. The property — which currently is zoned for a business park use — will retain several of its trees to provide a buffer to the residential neighborhood to the west, Werner said.
Werner said he couldn't yet reveal the company that will own and operate the facility. But Werner said he would get me some more information soon, including some renderings of the project. I'll pass it along when I get it.
• I'll be spending Wednesday honing my Don Corleone impersonation. In other words, Town Talk won't appear tomorrow. I'll catch up with you later in the week.
Copyright 2017 The Lawrence Journal-World. All rights reserved. This material may not be published, broadcast, rewritten or redistributed. We strive to uphold our values for every story published.